Serving All of Michigan: Saginaw-Flint-Bay City-Midland-Frankenmuth-Mt. Pleasant-Lansing-Grand Rapids-Detroit-Mackinac Island-Charlevoix-Traverse City -Alpena-Drummond Island-and MORE!
Weddings are our specialty!
Make your wedding extraordinary with our Expert DJ & Master of Ceremonies!
Planning Your Upcoming Wedding is an exciting time.  It will be The Biggest Day In Your Life!  You only have one chance to make you party FUN and it starts by booking the right DJ.  Your goal should be to find the ONE DJ that keeps the party going every single minute, NON STOP, like we do.  We bring a great sound system, play a wide variety of the best dance songs, provide elegant lighting & are considered the most experienced DJ.  We Will work with YOUR budget, YOUR songs, YOUR times, to customize the perfect atmosphere you envision!   We can help with a Band, DJ, Dueling Pianos, UpLights, Photobooth, Harpist.   We will pack the dance floor and make it a memorable time.  Most of all, You and Your guests will enjoy celebrating your special day: Stress Free.  We book last minute events with our 24/7 on call staff, but mostly 12-18 months out!   Call today and ask about our early bird pricing.
The CEYX Band offers a Combo package with: DJ, Live Dinner Music, Ceremony Music, Up Lights, Dueling Piano Show (if requested) & the BEST Party Band!
Dueling Pianos/DJ Combo - the hottest thing for weddings!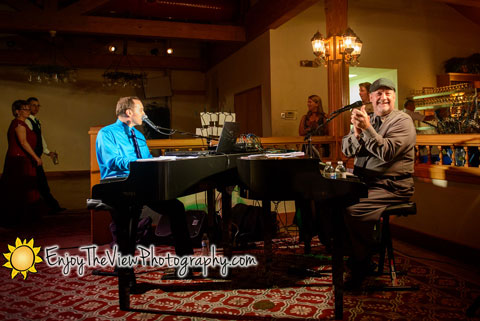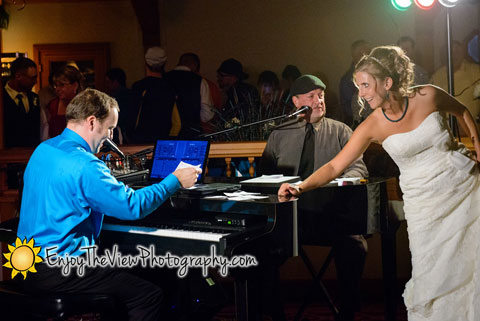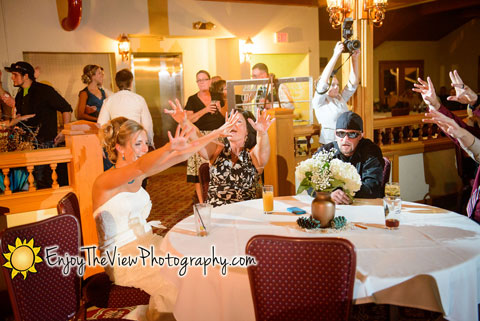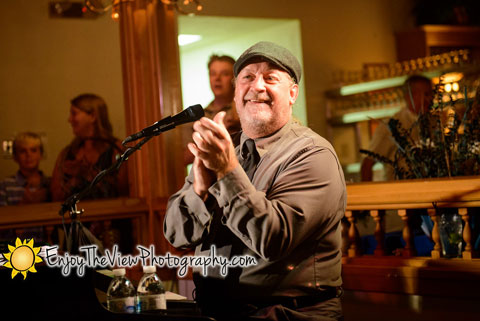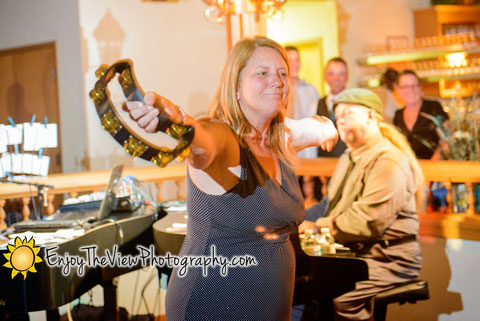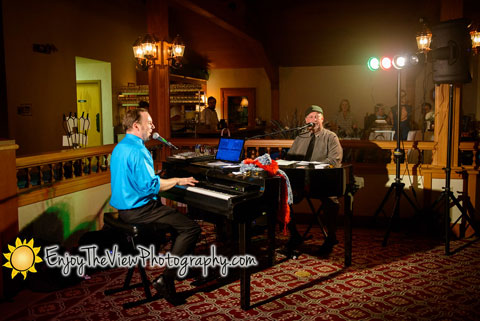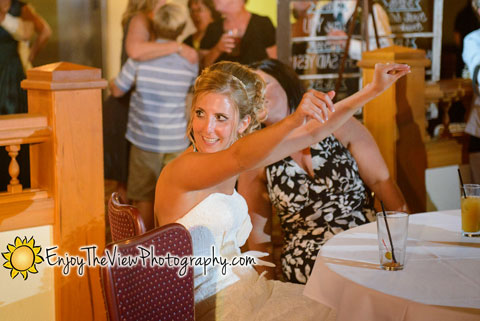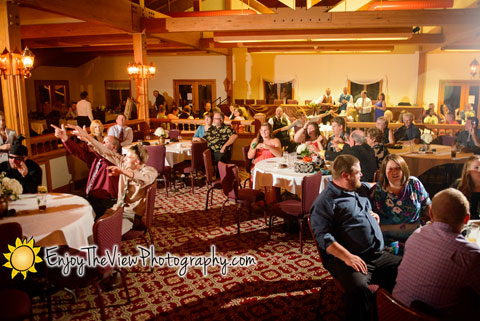 Castle Farms Weddings are MORE Fun with a DJ that gets keeps everyone dancing ALL night! The Dancing Starts at the 3:50 minute mark!  Rusch Entertainment has performed at over 200 Castle Farms weddings!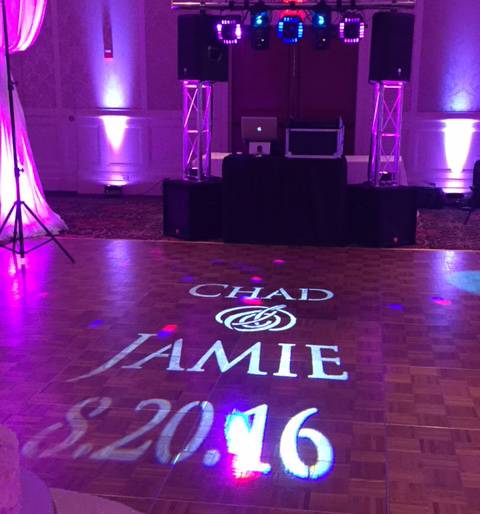 My wife and I did our research when looking for a good DJ, and even with all that research, the initial stages were a bit stressful. Much of that stress was finally removed from the equation when a few of our friends referred Rusch Entertainment (and DJ Casey). Leading up to the wedding, the offices were very easy to talk to and they were extremely accommodating (DJ Casey drove from Saginaw to Grand Rapids because we requested him). Their pre-wedding form dotted every "i" and crossed every "t." Finally, the dance floor was rocking all night long. I think that's always a couple's biggest concern: will my guests be having a great time with the music. Ours did, and the night was unforgettable.
Hi Aaron!
Thank you for a wonderful night!   It was so great to finally meet you, and you did an excellent job—who knew you'd also help me through the buffet line?!   We enjoyed the night. It was quick, as we knew it would be, but the music was fun. You made an excellent impression on all of our guests. Thank you for being a part of the day!
Sincerely,   Lori Jane Gliha & Oscar Lopez – Crooked Creek Ranch, Leelanau   
Dean,
You did a great job at keeping the dance floor completely packed and playing a variety for everyone there. Thank you so much for creating a fun and exciting tone for a special night!
Ashley and Tyler
Dean,
Thank you for your great work tonight. Keeping the party going and working with us to help make this day special!
Chris and Jackie
Dean,
Thank you for all your help planning for our special day! Thank you also for making our party so special for not only me, but also for my dad.
Jeff and Kelly
Dear Dean,
Thank you so much for making our big day so awesome. You were a blast and all of our guest had a great night. Thank you for all of your work. We will highly recommend you to others.
Thanks, Alyssa and Collin
Dear CEYX,
Thank You so much for performing at our wedding reception. We has numerous positive comments from our guests on your music and song selection. We especially appreciated the pretend instruments you brought for the kids to play with. They loved it and were so fun to watch out on the dance floor. Also, thank you for taking charge of the reception and helping it flow smoothly. I was able to relax and not worry about the details because you took care of everything!
Lauren and Mark
Dean and CEYX,
You were amazing! Compliments everywhere! You really made our Carrie's wedding a fantastic party. News is traveling and you should be booked solid for years!!
Mom of Bride
Michael and Dean,
As our new life starts as husband and wife, we would like to say thank you! Our guests had so much fun at the reception dancing! We enjoyed working with you and you made everything so easy and organized for us. Our uplighting was absolutely beautiful and you did a great job. Michael keeping everyone out having a great time out on the dance floor. we sincerely thank you for being a part of our special day and making our dreams come true!
Ashley and Chuck
Dean,  I just wanted to extend my sincerest gratitude for the services Casey provided.  He was an absolute professional, he was fun to work with, he was extremely receptive, and best of all, he had the crowd dancing all night long.  Kelly and I cannot thank Casey enough for being such an intricate piece of the puzzle that made our night unforgettable.
All the best,   Kelly & Avelino Cortez  – The Cheney Place
( The Web said we were Grand Rapids BEST!  It looks like Avelino is happy he found us!)
Keith did an outstanding job as our wedding reception's DJ.  Here are a few of the specific things we appreciated:
1) He made sure to correctly pronounce the names of all members of the bridal party.
2) Keith honored our wishes and helped create the atmosphere we desired at all points in the reception.  He read the party well and maintained a great flow through the reception's schedule.
3) He played music to satisfy all age groups.  The dancing was lively all night long, and Keith stayed until the very end of the party.
4) When the time came for key events (toasts, cake cutting, first dances), Keith was prompt in finding the Bride and Groom and making sure the reception stayed on schedule.
5) He cut out things we ended up not having time for, such as the dollar dance, while maintaining the essential pieces of the reception.
6) Keith worked well with the venue's staff.
Keith was a superlative DJ, and we were very grateful to have hired him.  We would not have wanted him to do anything differently!
Thanks so much, Keith!
Erik & Laura Bates
Dean,
Aaron was AWESOME to say the least. He not only did a terrific job all night of keeping the dance floor full, he kept everything on time and moving along. I've been to a lot of weddings that aren't managed very well and can say that our's rocked! (Even if there is bias in that statement.) Mackenzie and I were both very impressed. Thank you both for everything!
MacKenzie & Brandon B – St. Demetrios Greek Orthodox Hellenic Center
Dean,  You did amazing! Everyone was so impressed and had so much fun. We had several guests come up to us to let us know that they had never seen so many people on the dance floor or a DJ with so much energy. My cousin asked for your info for her wedding that she is in the process of planning for next year.  Thank you so much for keeping everyone excited and partying all night. It was wonderful.  (200+ guests & you had the dance floor packed until the end!!)
Sincerely, Emily & Steven, The H Hotel
Our wedding day was genuinely the best day of our lives- and we have DJ Corey to thank for that!
First, Corey drove out to the middle of the woods with all of his top-of-the-line equipment in order to provide our evening entertainment. We thought we might have trouble getting someone to commit to a non-traditional wedding setting, but he heard our story and agreed to help us out!
The music planning process was a breeze. After filling out our preferences a month ahead of the event, Corey contacted me the week of the wedding just to go through everything one last time- easing the mind of a very anxious bride 🙂
The day of the wedding, Corey was a gem. In addition to showing up early to play music for our guests, he helped coordinate with the caterers to ensure that everything ran smoothly, kept us on time, and even did small (but largely appreciated!) things like offer to refill drinks for the head table.
However, the best part of the night was when the dancing started. Our dance floor was absolutely packed- the ENTIRE night. At several points in the evening, my new husband and I sat back to observe the dance floor, and we were just glowing with happiness about how great of a time our guests were having. We have heard nothing but compliments regarding the entertainment, and remarks such as "I haven't seen a dance floor that packed, and packed through the whole night, in decades!". Corey does a great job fielding requests from guests, but also is gifted in his ability to read the crowd and play whatever songs will keep them having a great time!
We are so grateful for Corey, and I will absolutely recommend him (or any member of the Rusch team) to any couple looking to make their wedding the best day of THEIR lives.
(5 Star review from the knot)
Party was awesome. Our DJ Bill did a great job. We were very happy with everything and he was very professional. Awesome experience. Over 120 people!
Samantha  & Chas – Outside wedding in Kawkawlin, MI
The wedding was wonderful and Casey did a marvelous job! I can't imagine having a more fun and energetic DJ! Thank-you again!!
Danielle Dymora  – Castle Farms  –  West Garden Room – Wedding Reception and Ceremony
Matt went above and beyond to make sure our wedding reception was everything that we wanted it to be! Matt politely and professionally gave us reminders throughout the night when it was time to cut the cake, throw the bouquet and for the bride and her father's dance. He took requests from guests, but also made sure that all of our guests were entertained by playing some classic rock for the parents/older crowd. Our dance floor was full up until the last song. He made sure to ask my husband and I what we wanted for the last song of the night, which was a nice gesture after playing 7 hours of music. I would highly recommend Matt to anyone who is looking for a professional, experienced DJ that is highly attentive to detail and does not try to make your reception about himself. We cannot thank Matt and Rusch enough for making our reception so much fun!!
Kaitlyn & Chad – Doubletree Riverfront Hotel
Thank You so much for being the perfect DJ at my sons and daughter-in-laws wedding, June 4 @ LFA Hall. You had the guests dancing longer than any wedding I can remember in recent years. You were not a show hog; but blended into the background and let your work, professionalism, and music do the talking. The volume was perfect, not to loud-just right! Great Job!
Ann Roedel
Casey was absolutely amazing! Everything went so good, very easy to communicate with before the wedding. We will definitely be referring you to everyone we can! He did well with a few things that didn't go as planned! Thank you so much!    Thank you! (Casey's Dad (Dean) entertained at mom's wedding 9-19-87 in Bay City!!
Sara & Cory – Bavarian Inn Lodge  
Dean, we want to tell you how happy we were with Aaron being our DJ for our wedding reception. He is so insightful, considerate, helpful, and gracious. He gave us a wonderful experience and memory of a great evening with friends and family. We would definitely recommended your company and Aaron.
Ruth and Brian
Casey was the DJ at our wedding at Castle Farms. He was AMAZING! Rusch Entertainment as a whole was great to work with, fast communication, and he worked flawlessly with us to make sure everything was perfect. Rusch Entertainment is on the "preferred provider" list at Castle Farms, so that is how I was connected with them. It is hard to pick a DJ when it is such an important element of a wedding, but I am so thankful I chose them and I am so happy we were given Casey as our DJ. Thanks Rusch for helping making our day perfect and keeping our dance floor alive! 🙂
Stephanie W.
There's a lot to be said for the big name in town… Rusch Entertainment really does shine above the rest. As a photographer there are things about DJ's that really stand out… their ability to pack the dance floor for those couples and party shots, and their willingness to keep the laser light show at bay until your precious first dance and family moments are caught on film. Dean, the patriarch of the Rusch family is an entertainer through and through. He has an amazing way with people, and standard that his family and employees live up to on a nightly basis. Always forward thinkers, not sitting on the old stand by that "if it works don't fix it". So if you can't guarantee the man, the myth, the legend himself, his son's Casey and Corey, and Micheal Jesse are all favorites that bring the party!
Black Sheep Chic Photography – Leslie Gauthier
Corey was amazing!  He took care of the music for us at our ceremony and the reception since they were at the same venue.  He was very attentive before the date to make sure I didn't have any questions, concerns or changes that needed to be made, and was attentive the day of as well.  Corey kept our friends and family on the dance floor from 8:00-12:00.  There was never a time that there wasn't at least a handful of people dancing.   A couple of times I looked up and the floor was packed, and the dance floor wasn't big enough to hold everyone (though it is a large dance floor at the Forest Edge in Freeland where we were married).  He did a great job with mixing things up but doing it in a way that flowed very nicely.  Everyone complimented on what a great time they had and how much they enjoyed the music. Thank you so much Corey!!
Mike and Vicki K. – Forest Edge in Freeland