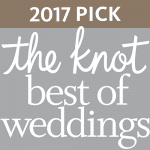 Rusch Entertainment is honored to receive the knot best of weddings award for 2017!
Serving All of Michigan: Saginaw-Flint-Bay City-Midland-Frankenmuth-Mt. Pleasant-Lansing-Grand Rapids-Detroit-Mackinac Island-Charlevoix-Traverse City -Alpena-Drummond Island-and MORE!
We're proud to have provided the sound and lights for the Castle Farms Expo!
It was wonderful to meet all of the 2016 & 2017 brides at the bridal show! Thank you to those who booked us. We will make your wedding day a BLAST!
Weddings are our specialty!
Make your wedding extraordinary with our Expert DJ & Master of Ceremonies!
Planning Your Upcoming Wedding is an exciting time.  It will be The Biggest Day In Your Life!  You only have one chance to make you party FUN and it starts by booking the right DJ.  Your goal should be to find the ONE DJ that keeps the party going every single minute, NON STOP, like we do.  We bring a great sound system, play a wide variety of the best dance songs, provide elegant lighting & are considered the most experienced DJ.  We Will work with YOUR budget, YOUR songs, YOUR times, to customize the perfect atmosphere you envision!   We can help with a Band, DJ, Dueling Pianos, UpLights, Photobooth, Harpist.   We will pack the dance floor and make it a memorable time.  Most of all, You and Your guests will enjoy celebrating your special day: Stress Free.  We book last minute events with our 24/7 on call staff, but mostly 12-18 months out!   Call today and ask about our early bird pricing.
The CEYX Band offers a Combo package with: DJ, Live Dinner Music, Ceremony Music, Up Lights, Dueling Piano Show (if requested) & the BEST Party Band!
2016 Rusch Entertainment Featured in DJ Times … read more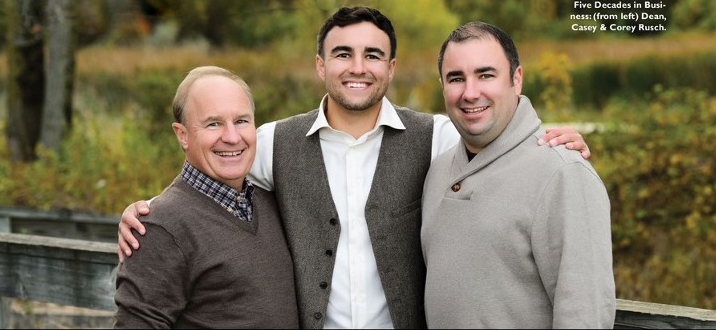 Add a touch of class with CEYX's soft Up Beat Instrumental music for your Cocktail & Dinner Set!
Dueling Pianos/DJ Combo - the hottest thing for weddings!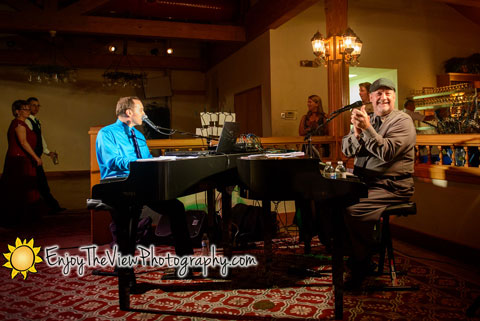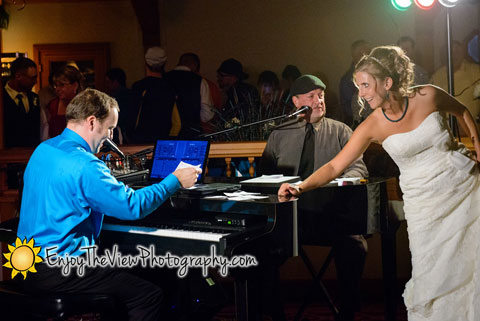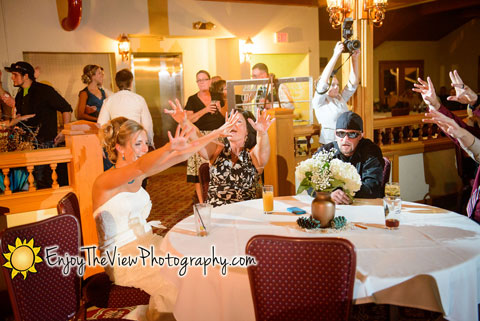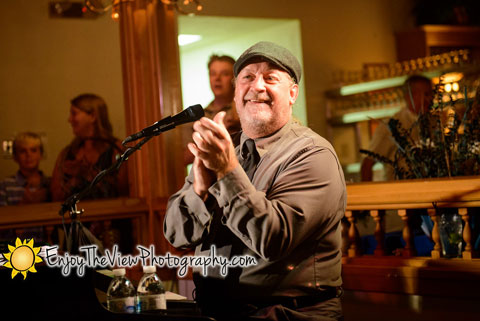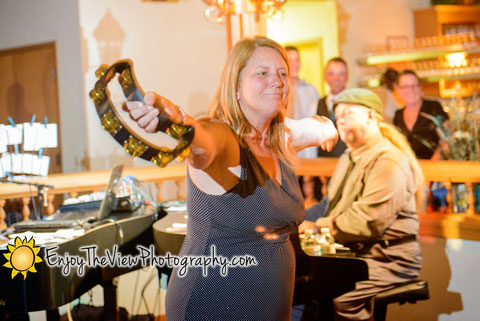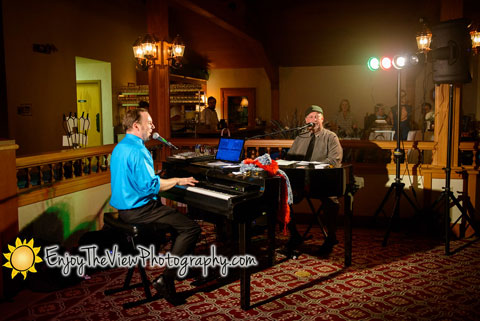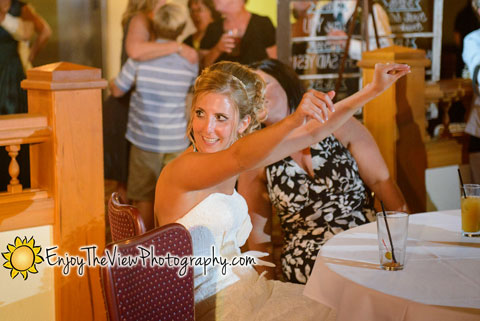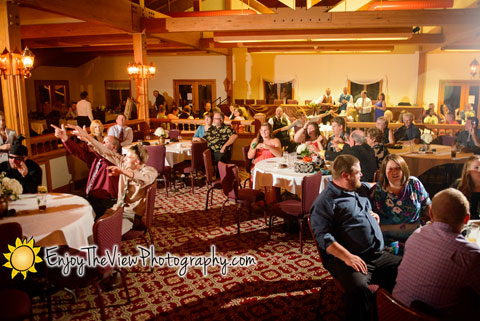 Castle Farms Weddings are MORE Fun with a DJ that gets keeps everyone dancing ALL night! The Dancing Starts at the 3:50 minute mark!  Rusch Entertainment has performed at over 200 Castle Farms weddings!
Add Photo Booth Fun to Your Special Day!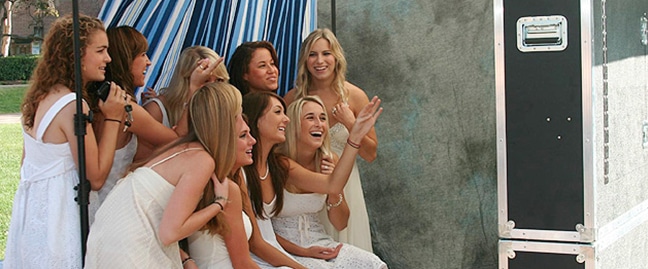 Joe DJ'd Kelsey Ferguson's wedding at the Hagerty Center in Traverse City. Kelsey chose DJ Joe after seeing him at her sister's Sara's wedding 4 year's earlier at Zehnder's in Frankenmuth! Their Mom Becky remembered Dean's band from the Reese HS dances in 1974!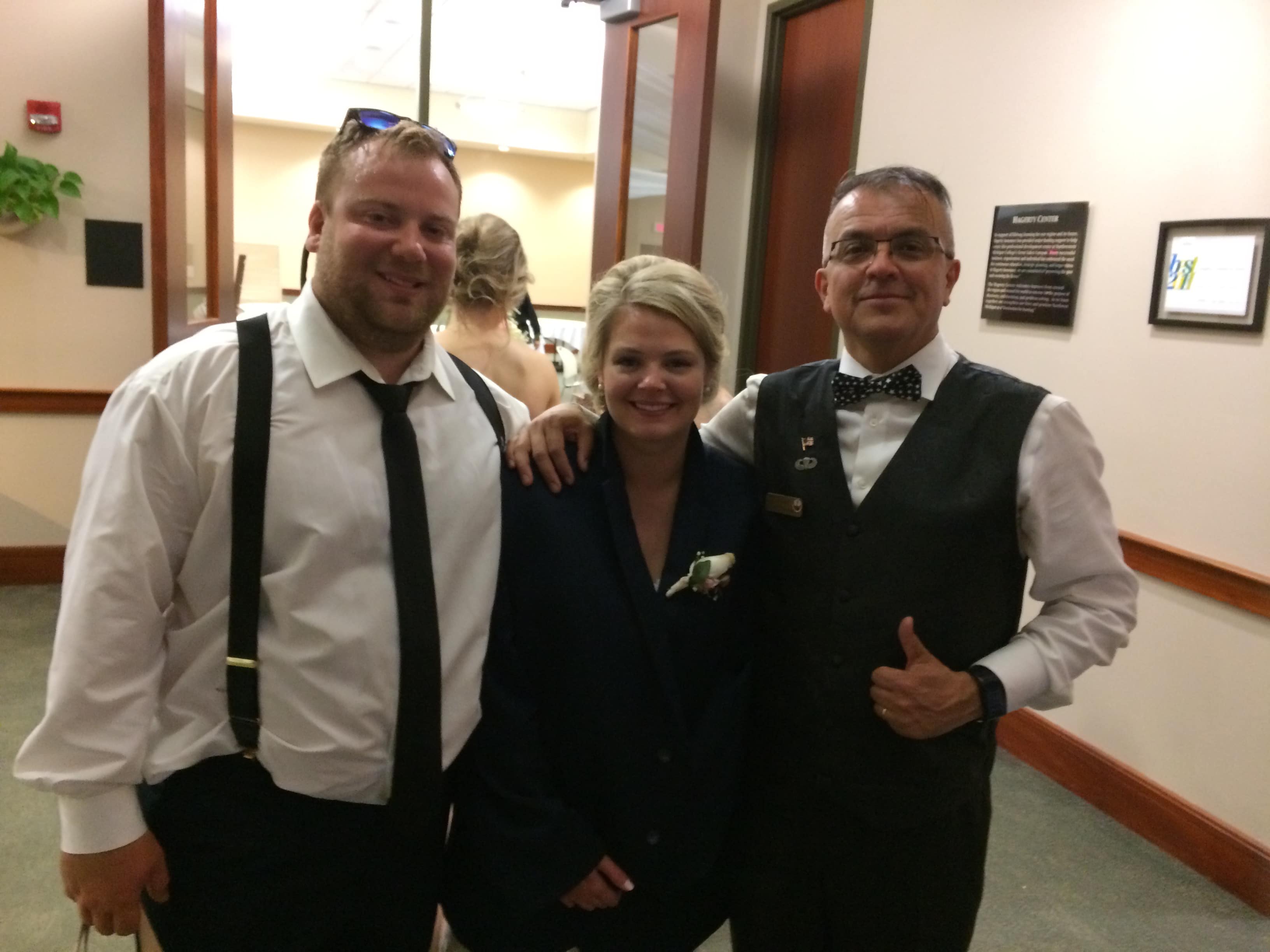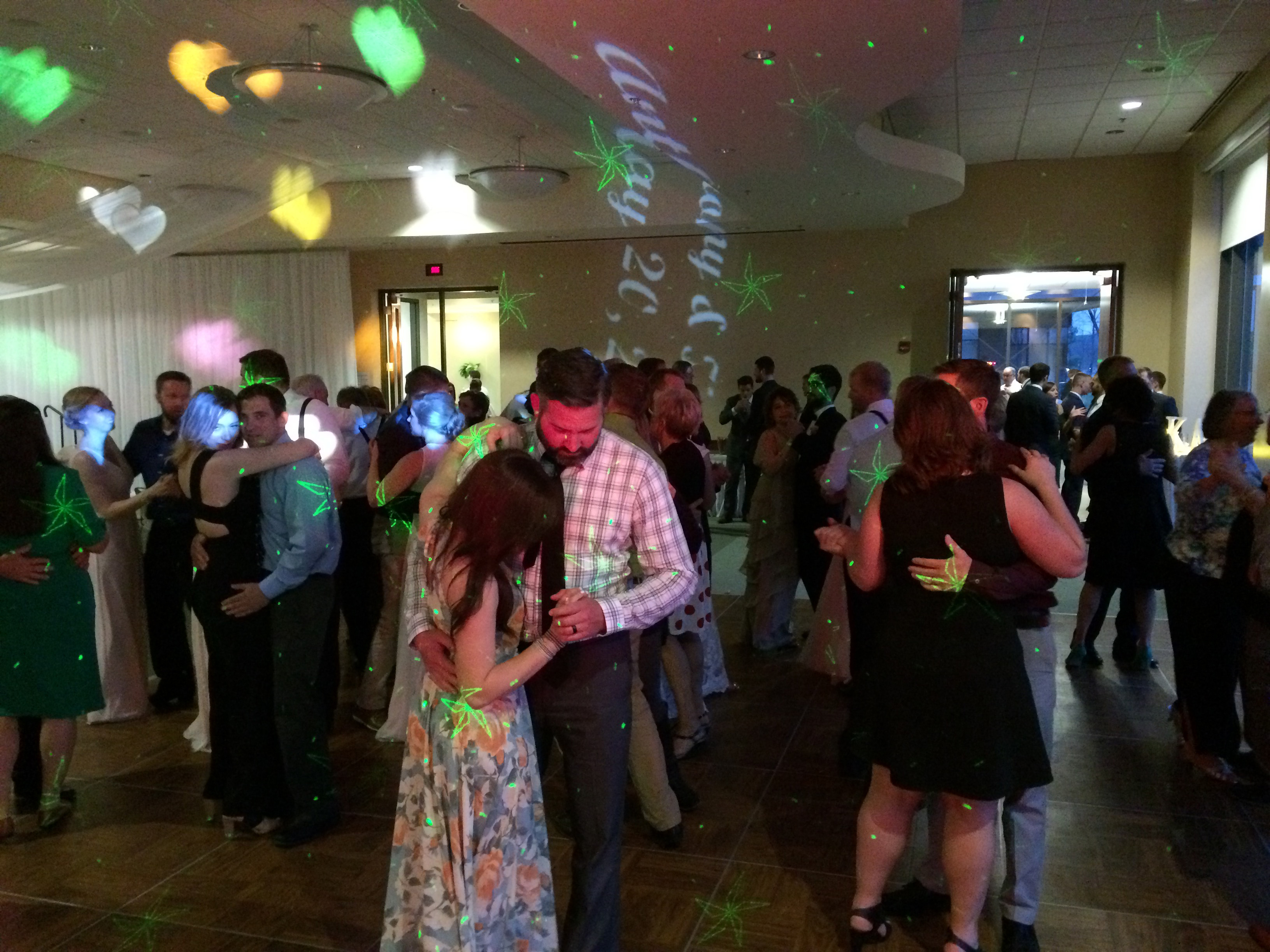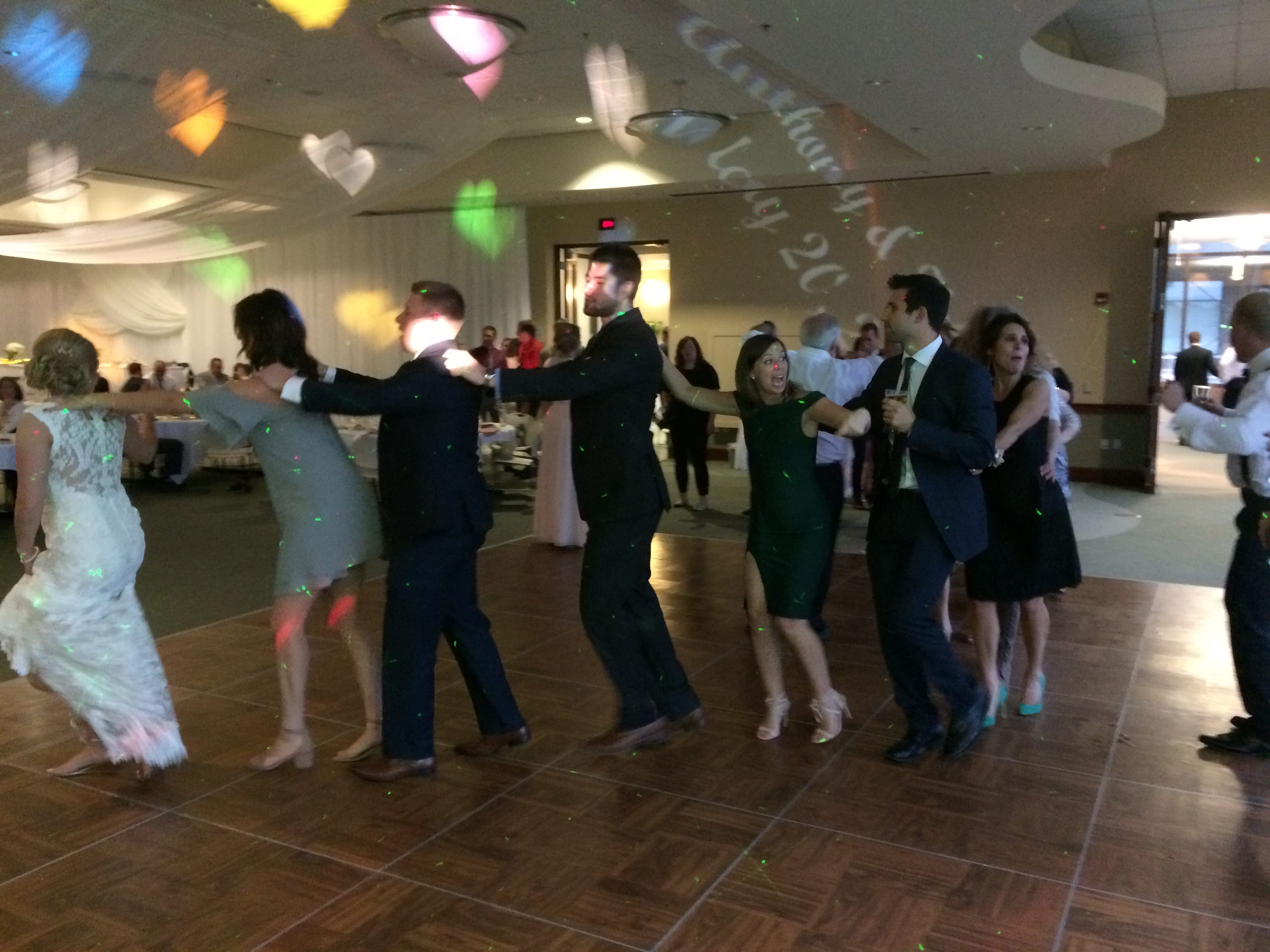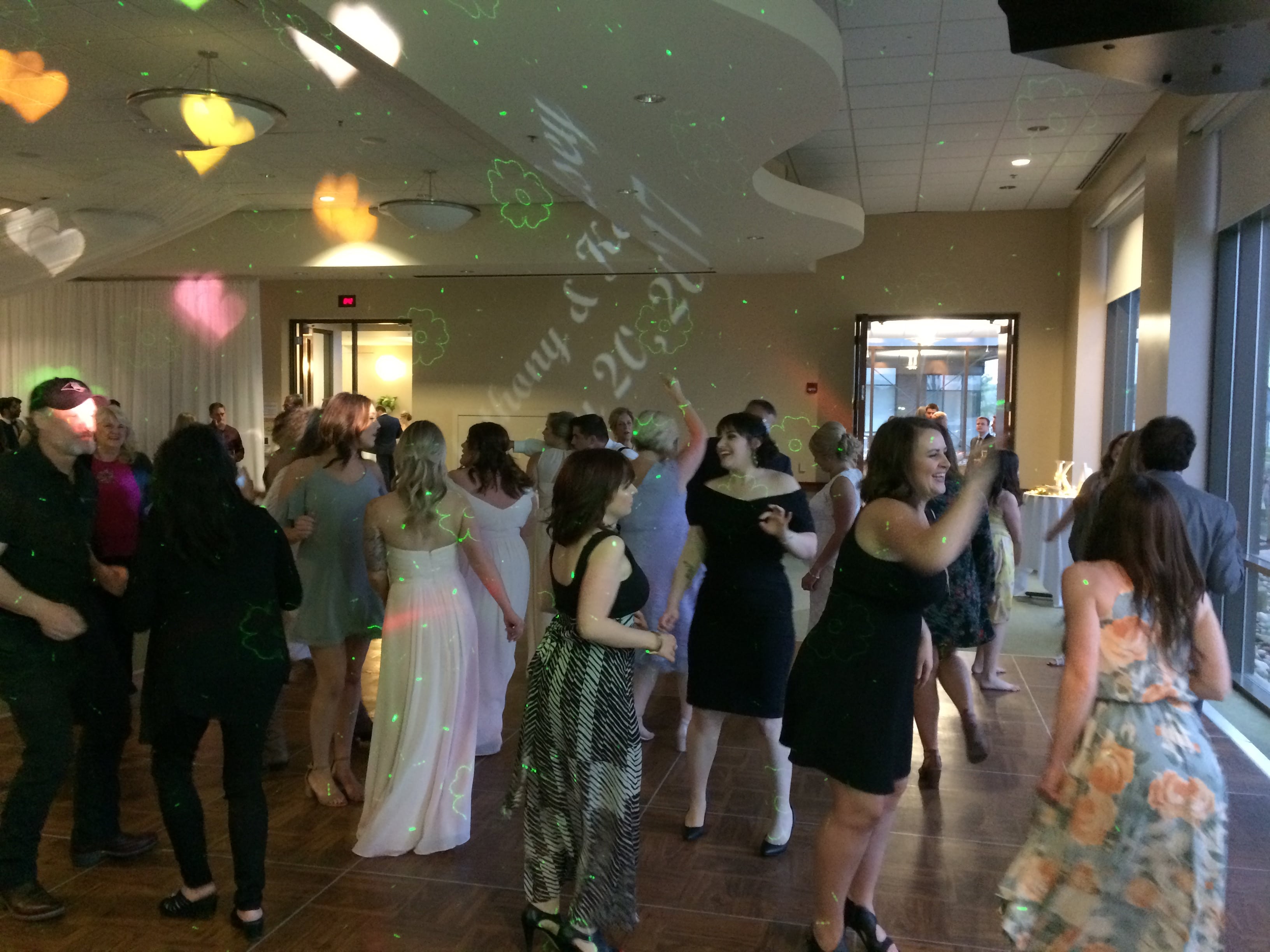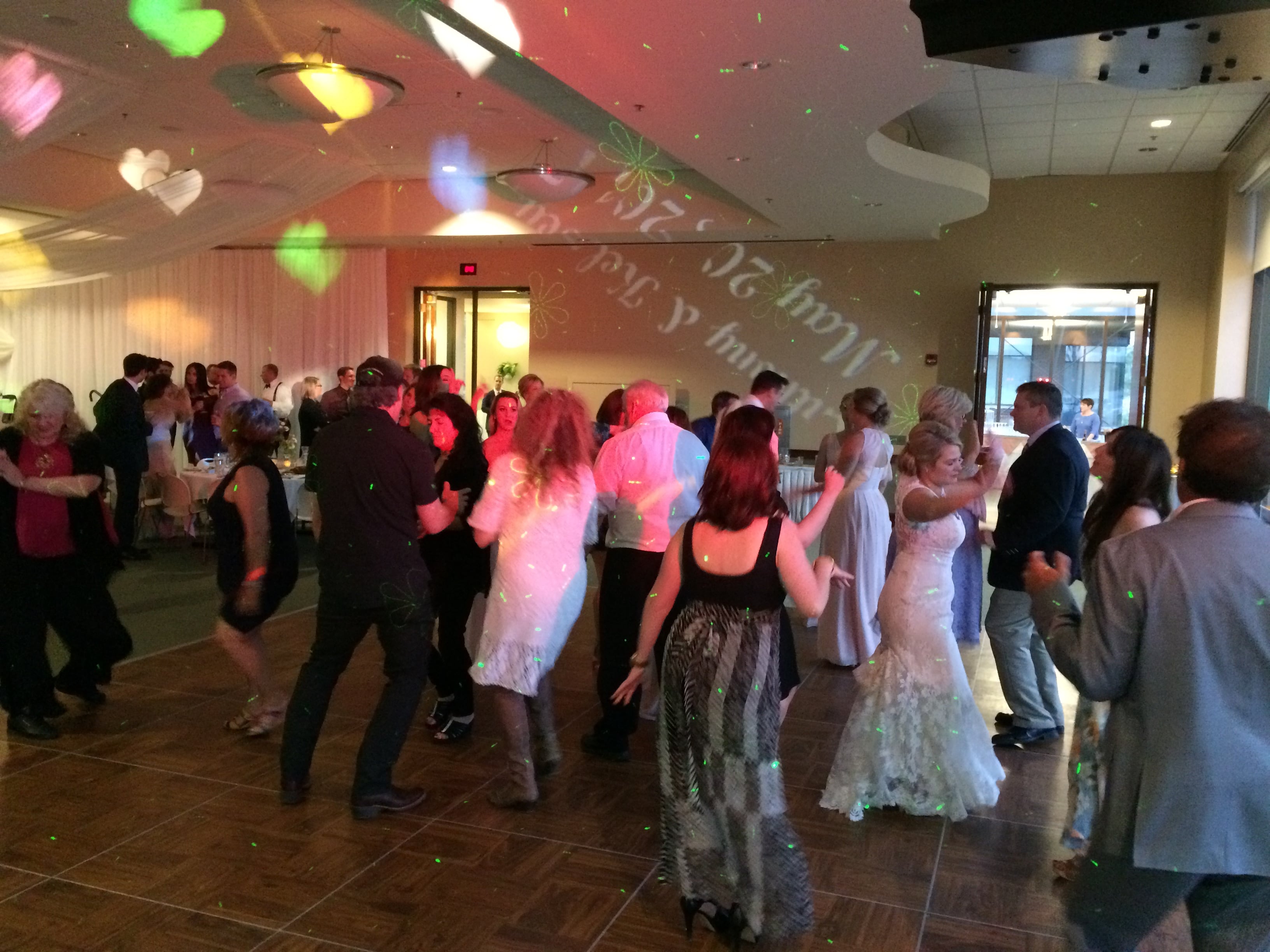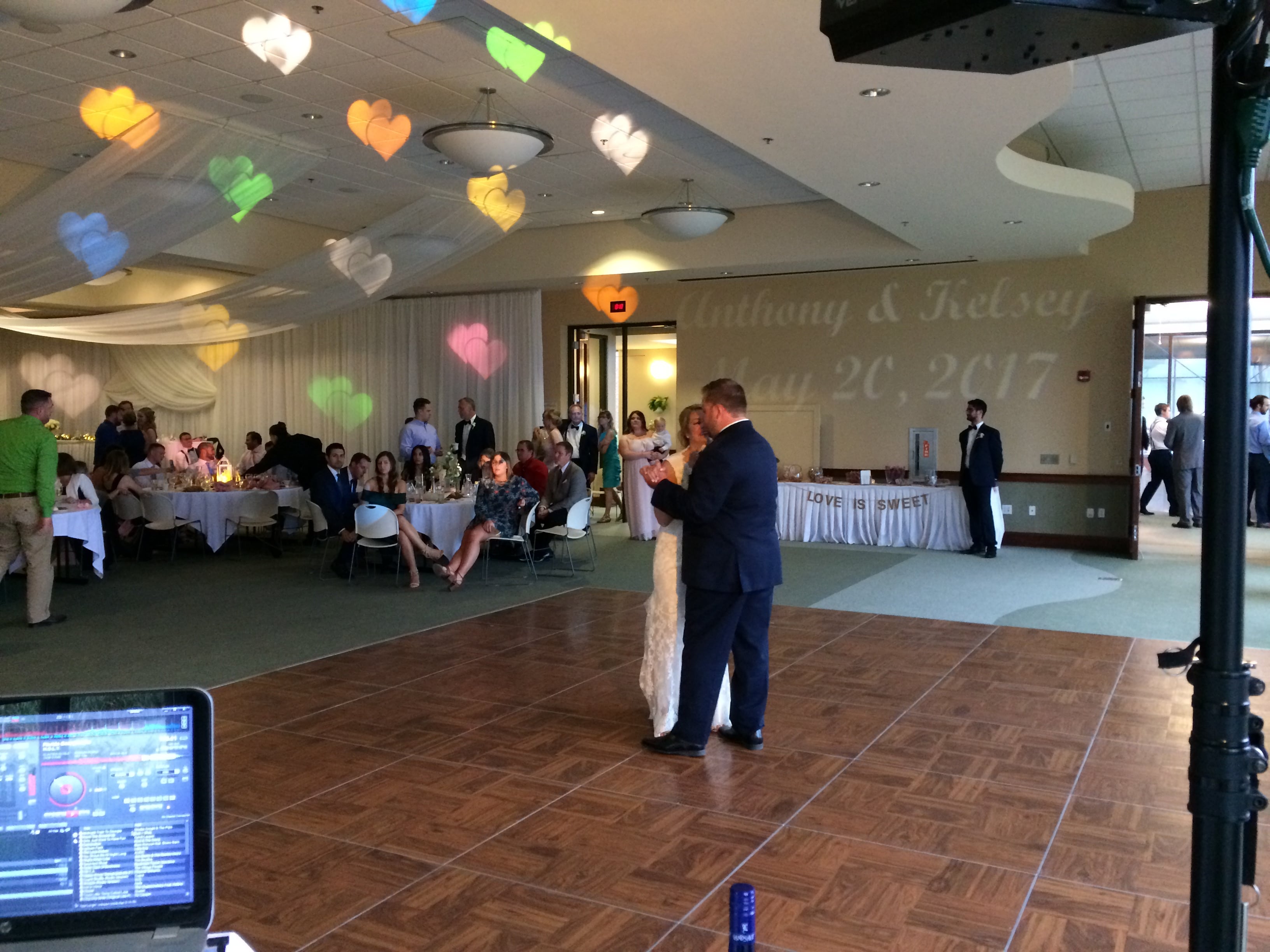 Hi Dean,
Scott Arnett was great! He made our night very special and kept the party hopping until the very last minute!! I loved that my guests were still rocking the dance floor until they turned the lights on! Highly recommend you guys to anyone planning a party! Thank you!  About 225 Guests at the Doubletree Riverfront Hotel & Conference.
Lauren B. and Bryan S.
I have nothing but wonderful things to say about Rusch Entertainment! Corey went above and beyond for my wedding! He not only kept the dancing going all night, but he also helped us a lot in the planning process, giving us suggestions and details we had not even considered. I feel like choosing the right DJ can make or break a wedding, and Corey made our night so spectacular! Seriously, was the best night ever! Thank you Corey and Rusch Entertainment for everything!!!
Jennica – The Michigan League, Ann Arbor
Casey was AWESOME!!  We were so happy with how professional he was!  He had our dance floor packed all night!  Guests from the wedding downstairs were coming up to dance with us!  We had several compliments on how great he was! Thank you!
Juliette and Tyler Young
Being a wedding photographer I get to experience and work with plethora of clients as well as entertainment DJs.  You have the one company who never fails to impress me, Dean.  Rusch Entertainment and Dean you rock! I am so glad you were there for my sister's wedding, we had so much fun. I talked to her today and she wants to do it all over again; it was such an amazing reception, mostly because of you! After witnessing the passion you have for entertaining and music, it certainly projects onto the level of professionalism and how you interact with guests to ensure a positive, and fun environment. Stay awesome, Dean and if you ever want some more images from weddings we've rocked together just go to my website www.MomentsCapturedByVanessa.com.
I tell you what, I did not have one complaint from any of my guests the entire night about Corey and Rusch Entertainment. Corey was always coming to me to tell me how things would happen before he did them. He also played songs that people actually liked. I am beyond thankful that I booked this company as he created many memories for me and my wife. Even my groomsman who does not dance at all was out on the dance floor. Thank you Corey! I would highly highly recommend this company if you want to have a night for you and all your guests to enjoy.
Jarrett – Forest Edge Banquet Center 
I am still getting compliments on my wedding, almost six months later. I attribute much of that to my DJ, Keith. It was like he just knew what the crowd wanted to hear while mixing in my must-haves throughout the night. There was always someone on the dance floor, most of the time it was a little crowded! I had a blast dancing the night away and I know my guests did too. Definitely would recommend him to anyone looking for a DJ. Was set up, waiting for us to arrive to the reception, went through everything with me a few days before. Rusch has a questionnaire that you fill out ahead of time that really gives you time to think through all of the music you want at your reception and what you definitely don't want and can suggest music for different points at your reception. That was very helpful to us. I was super impressed and very happy with Keith. Thank you so much for making it a night to remember.
Kelly and Erick B. – St. Demetrios Greek Orthodox Hellenic Ct.
Aaron was awesome! We had Aaron at our daughters wedding  in December. They loved him then too! When people came in for our sons wedding in March they were so excited we had him again!! He had the dance floor full till the last dance!
Debbie Lougheed
Thanks to Rusch Entertainment for setting us up with Matt. He did a great job and was dressed appropriate for the occasion. DJ Matt made sure to check in with us throughout to ensure our celebration was perfect. The dance floor was PACKED the entire night! Heck of a way to ring in the New Year!  Thanks again!!
Candice & Ryan – Porto Bello Italian Restaurant, Grand Haven – NYE Wedding!
Hi Dean
Everything when great…. everyone loved Bill. He was very personal and great with the everyone!!!  Man was that photo booth a hit!!  I'm very happy we did that and she was great. The book she made was amazing. I keep looking threw it… thank you for everything and I will recommend you guys for anything!!!! Thanks again! (Bill Did my Sister's wedding, too and was great with the names and knew what to play) We Loved it!
Jeanette& Jacob, Merrill MI – The wedding of my dreams – Jonesfield Township Hall
Casey was incredible!! I think there were people on the dance floor the entire evening…even got the groom out there many times which isn't easy to do. He was professional but fun, stuck to the schedule but also improvised at times that worked out well. I was afraid that our choice of mixing 80's with new age music would be difficult to understand, but Casey was able to handle the task seamlessly. Also, the up-lighting looked absolutely amazing and really finished off the room.  The night wouldn't have been as good as it was without Casey, and I am so glad that I chose you for our DJ and lighting services.   Thank you again!
Andrea – Castle Farms Wedding! Jan 7, 2017
Words cannot express the amazing job Casey did DJing our wedding. Not only did he continuously check in throughout the planning process with my husband and I to ensure that our day was everything we wanted, Casey eased the nerves of this anxious bride with his kind, reassuring words that he would make this day as special as he knew it was to us. His display was fabulous: no wires or extension cables visible, which illustrated to me the time, effort and organization he put into our day. He also provided gorgeous up lighting at our venue; adding that extra elegance to the room that we desired. And what's a wedding without dancing? Casey did an amazing job ensuring that guests did not leave the dance floor the entire night. I would highly recommend Casey and Rusch Entertainment for any event! Thank you for your amazing work! 200 Guests!
Kelly
Hi Dean, Sorry I'm just getting to this but you did amazing! So happy we booked you!!!! My favorite part was each table being released by their favorite love song! The variety of songs was great and provided some wonderful laughs.
Jasmin & Justin – Rosebush MI
Hi Dean,  Aaron was great! We were very happy and impressed with how our wedding reception went. We look forward to providing some rave reviews on the knot for Rusch Entertainment and highlighting Aaron.  Ballroon at McKay, Grand Rapids    Hope you are enjoying the holidays! Apologies for the delay.
Adrienne B. –  University of Illinois | Urbana-Champaign Alumna
Hi Casey,  Thank you so much for doing a wonderful job at Maggie and Rob's Wedding at the Temple last Friday night.  You did exactly what I wanted by playing music that would keep people dancing all night.  We all had a wonderful time, and as you well know a DJ can "make or break the party"!  You definitely "made it"!
Thank you also for setting up the microphone for the wedding, and being on the spot with the microphone as we needed it at the reception.  I especially appreciated you being open to turning the music down during dinner so that people could carry on conversations.  I can't tell you how many weddings we have attended  where we leave with a headache from yelling and not being able to hear the person we are talking to.  I also appreciate that you had a giant smile on your face the entire evening. You looked as if you were having fun too!
I wrote you a glowing review on the Knot, and will recommend you to everyone I speak with who is planning a wedding.  We are still on a high from such a fun night.  Maggie tells me that you will be marrying soon. Congratulations, and I hope that you have as much fun at your wedding as we had at Maggie and Robs!   Thanks for doing a fabulous job for us!
(The Mom!)  Over 200 Guests!
Very good DJ!!! Corey listens to all of your wants and needs. I got nothing but compliments the whole night on the music. Didn't play one bad song. He set the tone for the reception and everything flowed together great. I wish I could get married again just to hear the music. Great job!!!
Andrea
I had the pleasure of having Rusch Entertainment as my DJ service for my wedding. "DJ Joe" had called me a few days before my wedding to go over all of our pre-discussed details … name pronunciations … timelines … song choices … the works! Then on the day of the wedding, Joe found me right away when he arrived at the venue and ran thru everything again with me just to make sure that my day would be perfect. Everything from first booking with Rusch to the end of my wedding day was top notch. Rusch Entertainment and DJ Joe helped to create what I believe was the best day of my life.
Randi
DJ Aaron was amazing!!! He went above and beyond making our wedding day very special!! I would highly recommend him and this company to do business with! Thank you, Rusch Entertainment!!
Emily Holder
Dear Ken & Rusch Entertainment!
Thank you so much for doing such a wonderful job with the entertainment and lighting for our wedding reception.  Our guests raved about the wonderful job DJ Ken did and we would recommend him to anyone!  THANKS Again!
Nicole & Kyle Woods – Arbela Township Hall  (About 225 guests)
Hi Dean,
First off I just have to say that DJ Garrett was absolutely amazing and made our night one to remember! He took the time to make sure all of our needs were met and that things were running smoothly.
The ceremony music was perfect for what we had discussed and it tied the ceremony together nicely.
For the reception, I couldn't have asked for a better DJ! Garrett moved things along at a good pace and made sure to take cues from us as well. He kept the music going, even when there wasn't a lot of people dancing. But that was ok because it ended up being the immediate family that stayed to the end on the dance floor with me and Garrett kept the party going as if it were a dance floor full of people! One of the best parts of the night was when it was getting late and Garrett taught us how to Time Warp! It was a blast!!!
All in all, we couldn't have asked for a more perfect day and night and Garrett was an integral part of it.
We now have someone to recommend if anyone ever asks for a DJ!
Liz Bruett (Kuehn) & Frank Kuehn
Because we chose Rusch Entertainment for our DJ and photo booth service, our wedding night has been the talk of all family and friend events since. Our dance floor was completely full the entire night. DJ Kim kept our guests from ages 85 to 1 entertained the entire night. We also had an ongoing line at the photo booth the entire night. Again, all ages loved the photo booth. I would recommend Rusch entertainment to all of my friends and family.   Over 400 people at the Midland County Fairgrounds-Gerstacker Buliding!
Beth and Luke
I could not have been more impressed with Michael Shae. Everyone keeps asking me how they can contact him to book him for their event as well. We have been to 5 weddings this year and Michael was by far the best. Thank you!
Morgaen & Greg – Destination Wedding: From Fenton to Crystal Mountain Ski Resort Guests: 150 
PLEASING TWO GENERATIONS!
Hi Dean,
We only have excellent things to say about our business with Rusch Entertainment! The photo booth was such a hit and the photo book we got at the end is such a great memento. The DJ was AMAZING! Mark was so nice, professional, and talented. We got so many compliments on him and the music and he made the entire experience that much better. He played the perfect music during dinner and really knew how to keep the party going. Mark played our first dance song at the end and had everyone make a circle around us and it was my absolute favorite part of the evening. I could feel so much love from everyone and I'm so thankful that mark did that!! Thank you for everything!
The new Mr. and Mrs. Patrick Kelly – About 250 Guests – Italian American Banquet Center
Hi Dean:   I just wanted to let you know that Mark did an outstanding job on Saturday for Patrick and Julie's wedding.  He did a great job with playing music for all the ages and everyone had a great time.  I did let him know at the end of the night what a great job he did. We couldn't believe how many people were still there when it was time to end.  He had everyone come out that was left and make a circle around Patrick and Julie and there had to be over 100 people still there.  The Photo Booth guys were awesome too. Thanks for taking care of us, it was great.
Linda K.  (Zehnders Of Frankenmuth, MGR) – Italian American Banquet Center, Livonia MI  About 250 Guests!

---
To All Couples and Wedding Planners,
My new wife and I wasted little time in securing the band Ceyx from Rusch Entertainment to play at our wedding reception.  Ceyx has an incredible reputation in our region for being a fun, talented, sharp, party-starting band.  From playing on the same stage as national acts, to playing in various community events, Marybeth and I have always been impressed with Ceyx's fun and versatile style of play.
We were delighted to hear that Ceyx was available for our wedding date and immediately seized the moment to book them for our wedding reception entertainment.  The band leader, Dean, was kind enough to invite us to hash out relevant details a week or so before our event, and even coordinated extra pieces of audio/visual equipment to be used for our reception.  The rest was history!  Dean served as the MC for our reception and really got the party started while introducing the bridal party and announcing any relevant evening details.
When looking for a fun, timeless, classy, and current band/DJ service for a wedding reception, Ceyx continues to uphold its reputation as the best around!  Marybeth and I love looking back at our wedding photos/videos and seeing all the guests entertained, dancing, and enjoying the night.  In conclusion, whenever we recommend a band or DJ, Ceyx from Rusch Entertainment is clearly our suggestion!
Sam Penkala
Our DJ got switched at the last minute and I was a little nervous because I didn't know anything about him.  The night ended up being perfect!  He got all of our song requests in, and the dance floor was packed the entire night. I had tons of compliments on how great the music and song selections were.  Everyone made a point to say it was one of the most fun weddings they had attended.  I had guests from as far away as California, Hawaii, Norway and Sweden and they all loved it! Thank you for a perfect night!
Brian and Lori
We were very pleased with Joe – he did a fantastic job with our wedding! In our whirlwind of crazy – he was our rock – keeping the party going, keeping everything (and us) on schedule and giving us the guidance and suggestions to keep our guests having a great time! He took the helm and we didn't have to worry about a thing and we could visit, dance and enjoy our evening and our guests. I had so many complements of him and the great job he was doing/did. He was very interactive with my guests and they loved him. He came in a stranger and left as part of the family! Don't even give it a second thought – just book him and don't look back – On your big day, you will be so very thankful you did!
Barb & Ron S.
Hello Dean,
Joe did FANTASTIC!!!   I had sooo many complements on his outstanding performance.   Many people were asking about him and I gave out quite a few referrals with contact info.
Lots of complements regarding the interaction with the guests! His  fun activates such as the dinner service game (name the song and your table could go next to eat) and the musical chairs/scavenger hunt had everyone buzzing and were a hit! His daughter was the perfect assistant and lots of complements on the daddy/daughter team.   We had a very good retention all the way until closing time.
My coordinator and bridesmaids commented on how they found his willingness to work with them & his easy last minute adjustments refreshing in all the chaos, and they were extremely appreciative of his helpful suggestions and direction.  It was great how he kept an eye on everything and made sure we were right on track and jumped right in and offered his professionalism and knowledge when needed.  I even had a few guests ask if he was a personal friend of ours, based on the communication between us all and the involvement with our bridal party.  I had many shocked responses when I told them it was actually our first time meeting each other. Watching our camaraderie and shenanigans, they couldn't believe we were not old friends or family.  That in itself is a huge testament to his commitment and involvement with making our special day perfect in every way.
We originally were planning an outdoor wedding, but due to mother nature, had to suddenly move indoors, which we had not planned for.  Joe and his daughter voluntarily jumped right in with my coordinator and decorator and offered another set of hands and super ideas to make the ceremony absolutely beautiful and come off without a hitch!
Being an older crowd and with family and friends traveling from long distances and who haven't been all together in over ten, twenty years – many stayed at the tables just because they were all talking and catching up on memories and stories.  However,  I noticed quite a few times ENTIRE tables singing all together, smiling, and the music selection based on the reaction of the crowd was very well played.  So, even though the dance floor may have not been packed every song, he definitely had the entire crowd involved and having a great time!
I could just go on and on about how well Joe did and how pleased everyone was.  We can't say enough good things about his professionalism, assistance and service.
On a scale of 1 – 10, Joe is an Eleven!
Bravo!   Barb  & Ron  D.
Dean,
Corey did an amazing job on 8/19/16. My husband and I have received so many compliments on your ability to keep the dance floor packed. You guys as always have gone above and beyond to make our wedding day special. Corey kept people dancing until the end of the night. His ability to read the crowd was what made the night all that much better. I will undoubtedly refer you to anyone I know looking for entertainment. I can't thank you enough for all of your hard work. I love the quality of service from Rusch Entertainment. You guys are amazing keep do what you do. Thank you for the great experience.
Sarah & Rob – St. Demetrios Greek Orthodox Hellenic Center
My wife and I did our research when looking for a good DJ, and even with all that research, the initial stages were a bit stressful. Much of that stress was finally removed from the equation when a few of our friends referred Rusch Entertainment (and DJ Casey). Leading up to the wedding, the offices were very easy to talk to and they were extremely accommodating (DJ Casey drove from Saginaw to Grand Rapids because we requested him). Their pre-wedding form dotted every "i" and crossed every "t." Finally, the dance floor was rocking all night long. I think that's always a couple's biggest concern: will my guests be having a great time with the music. Ours did, and the night was unforgettable.
Hi Aaron!
Thank you for a wonderful night!   It was so great to finally meet you, and you did an excellent job—who knew you'd also help me through the buffet line?!   We enjoyed the night. It was quick, as we knew it would be, but the music was fun. You made an excellent impression on all of our guests. Thank you for being a part of the day!
  
Dean,
You did a great job at keeping the dance floor completely packed and playing a variety for everyone there. Thank you so much for creating a fun and exciting tone for a special night!
Ashley and Tyler
Dean,
Thank you for your great work tonight. Keeping the party going and working with us to help make this day special!
Chris and Jackie
Dean,
Thank you for all your help planning for our special day! Thank you also for making our party so special for not only me, but also for my dad.
Jeff and Kelly
Dear Dean,
Thank you so much for making our big day so awesome. You were a blast and all of our guest had a great night. Thank you for all of your work. We will highly recommend you to others.
Thanks, Alyssa and Collin
Dear CEYX,
Thank You so much for performing at our wedding reception. We has numerous positive comments from our guests on your music and song selection. We especially appreciated the pretend instruments you brought for the kids to play with. They loved it and were so fun to watch out on the dance floor. Also, thank you for taking charge of the reception and helping it flow smoothly. I was able to relax and not worry about the details because you took care of everything!
Lauren and Mark
Dean and CEYX,
You were amazing! Compliments everywhere! You really made our Carrie's wedding a fantastic party. News is traveling and you should be booked solid for years!!
Mom of Bride
Michael and Dean,
As our new life starts as husband and wife, we would like to say thank you! Our guests had so much fun at the reception dancing! We enjoyed working with you and you made everything so easy and organized for us. Our uplighting was absolutely beautiful and you did a great job. Michael keeping everyone out having a great time out on the dance floor. we sincerely thank you for being a part of our special day and making our dreams come true!
Ashley and Chuck
Dean,  I just wanted to extend my sincerest gratitude for the services Casey provided.  He was an absolute professional, he was fun to work with, he was extremely receptive, and best of all, he had the crowd dancing all night long.  Kelly and I cannot thank Casey enough for being such an intricate piece of the puzzle that made our night unforgettable.
All the best,   Kelly & Avelino Cortez  – The Cheney Place
( The Web said we were Grand Rapids BEST!  It looks like Avelino is happy he found us!)
Keith did an outstanding job as our wedding reception's DJ.  Here are a few of the specific things we appreciated:
1) He made sure to correctly pronounce the names of all members of the bridal party.
2) Keith honored our wishes and helped create the atmosphere we desired at all points in the reception.  He read the party well and maintained a great flow through the reception's schedule.
3) He played music to satisfy all age groups.  The dancing was lively all night long, and Keith stayed until the very end of the party.
4) When the time came for key events (toasts, cake cutting, first dances), Keith was prompt in finding the Bride and Groom and making sure the reception stayed on schedule.
5) He cut out things we ended up not having time for, such as the dollar dance, while maintaining the essential pieces of the reception.
6) Keith worked well with the venue's staff.
Keith was a superlative DJ, and we were very grateful to have hired him.  We would not have wanted him to do anything differently!
Thanks so much, Keith!
Erik & Laura Bates
Dean,
Aaron was AWESOME to say the least. He not only did a terrific job all night of keeping the dance floor full, he kept everything on time and moving along. I've been to a lot of weddings that aren't managed very well and can say that our's rocked! (Even if there is bias in that statement.) Mackenzie and I were both very impressed. Thank you both for everything!
MacKenzie & Brandon B – St. Demetrios Greek Orthodox Hellenic Center
Dean,  You did amazing! Everyone was so impressed and had so much fun. We had several guests come up to us to let us know that they had never seen so many people on the dance floor or a DJ with so much energy. My cousin asked for your info for her wedding that she is in the process of planning for next year.  Thank you so much for keeping everyone excited and partying all night. It was wonderful.  (200+ guests & you had the dance floor packed until the end!!)
Sincerely, Emily & Steven, The H Hotel
Our wedding day was genuinely the best day of our lives- and we have DJ Corey to thank for that!
First, Corey drove out to the middle of the woods with all of his top-of-the-line equipment in order to provide our evening entertainment. We thought we might have trouble getting someone to commit to a non-traditional wedding setting, but he heard our story and agreed to help us out!
The music planning process was a breeze. After filling out our preferences a month ahead of the event, Corey contacted me the week of the wedding just to go through everything one last time- easing the mind of a very anxious bride 🙂
The day of the wedding, Corey was a gem. In addition to showing up early to play music for our guests, he helped coordinate with the caterers to ensure that everything ran smoothly, kept us on time, and even did small (but largely appreciated!) things like offer to refill drinks for the head table.
However, the best part of the night was when the dancing started. Our dance floor was absolutely packed- the ENTIRE night. At several points in the evening, my new husband and I sat back to observe the dance floor, and we were just glowing with happiness about how great of a time our guests were having. We have heard nothing but compliments regarding the entertainment, and remarks such as "I haven't seen a dance floor that packed, and packed through the whole night, in decades!". Corey does a great job fielding requests from guests, but also is gifted in his ability to read the crowd and play whatever songs will keep them having a great time!
We are so grateful for Corey, and I will absolutely recommend him (or any member of the Rusch team) to any couple looking to make their wedding the best day of THEIR lives.
(5 Star review from the knot)
Party was awesome. Our DJ Bill did a great job. We were very happy with everything and he was very professional. Awesome experience. Over 120 people!
Samantha  & Chas – Outside wedding in Kawkawlin, MI
The wedding was wonderful and Casey did a marvelous job! I can't imagine having a more fun and energetic DJ! Thank-you again!!
Danielle Dymora  – Castle Farms  –  West Garden Room – Wedding Reception and Ceremony
Matt went above and beyond to make sure our wedding reception was everything that we wanted it to be! Matt politely and professionally gave us reminders throughout the night when it was time to cut the cake, throw the bouquet and for the bride and her father's dance. He took requests from guests, but also made sure that all of our guests were entertained by playing some classic rock for the parents/older crowd. Our dance floor was full up until the last song. He made sure to ask my husband and I what we wanted for the last song of the night, which was a nice gesture after playing 7 hours of music. I would highly recommend Matt to anyone who is looking for a professional, experienced DJ that is highly attentive to detail and does not try to make your reception about himself. We cannot thank Matt and Rusch enough for making our reception so much fun!!
Kaitlyn & Chad – Doubletree Riverfront Hotel
Thank You so much for being the perfect DJ at my sons and daughter-in-laws wedding, June 4 @ LFA Hall. You had the guests dancing longer than any wedding I can remember in recent years. You were not a show hog; but blended into the background and let your work, professionalism, and music do the talking. The volume was perfect, not to loud-just right! Great Job!
Ann Roedel
Casey was absolutely amazing! Everything went so good, very easy to communicate with before the wedding. We will definitely be referring you to everyone we can! He did well with a few things that didn't go as planned! Thank you so much!    Thank you! (Casey's Dad (Dean) entertained at mom's wedding 9-19-87 in Bay City!!
Sara & Cory – Bavarian Inn Lodge  
Dean, we want to tell you how happy we were with Aaron being our DJ for our wedding reception. He is so insightful, considerate, helpful, and gracious. He gave us a wonderful experience and memory of a great evening with friends and family. We would definitely recommended your company and Aaron.
Ruth and Brian
Casey was the DJ at our wedding at Castle Farms. He was AMAZING! Rusch Entertainment as a whole was great to work with, fast communication, and he worked flawlessly with us to make sure everything was perfect. Rusch Entertainment is on the "preferred provider" list at Castle Farms, so that is how I was connected with them. It is hard to pick a DJ when it is such an important element of a wedding, but I am so thankful I chose them and I am so happy we were given Casey as our DJ. Thanks Rusch for helping making our day perfect and keeping our dance floor alive! 🙂
Stephanie W.
There's a lot to be said for the big name in town… Rusch Entertainment really does shine above the rest. As a photographer there are things about DJ's that really stand out… their ability to pack the dance floor for those couples and party shots, and their willingness to keep the laser light show at bay until your precious first dance and family moments are caught on film. Dean, the patriarch of the Rusch family is an entertainer through and through. He has an amazing way with people, and standard that his family and employees live up to on a nightly basis. Always forward thinkers, not sitting on the old stand by that "if it works don't fix it". So if you can't guarantee the man, the myth, the legend himself, his son's Casey and Corey, and Micheal Jesse are all favorites that bring the party!
Black Sheep Chic Photography – Leslie Gauthier
Corey was amazing!  He took care of the music for us at our ceremony and the reception since they were at the same venue.  He was very attentive before the date to make sure I didn't have any questions, concerns or changes that needed to be made, and was attentive the day of as well.  Corey kept our friends and family on the dance floor from 8:00-12:00.  There was never a time that there wasn't at least a handful of people dancing.   A couple of times I looked up and the floor was packed, and the dance floor wasn't big enough to hold everyone (though it is a large dance floor at the Forest Edge in Freeland where we were married).  He did a great job with mixing things up but doing it in a way that flowed very nicely.  Everyone complimented on what a great time they had and how much they enjoyed the music. Thank you so much Corey!!
Mike and Vicki K. – Forest Edge in Freeland