PHOTO BOOTH FUN FOR YOUR EVENT
Serving All of Michigan: Saginaw-Flint-Bay City-Midland-Frankenmuth-Mt. Pleasant-Lansing-Grand Rapids-Detroit-Mackinac Island-Charlevoix-Traverse City -Alpena-Drummond Island-and MORE!

Photo Booths for all Occasions
From weddings to ad-lib gatherings, photo booths will add a fun, personal touch to your memories. Full-size portable digital photo booths provide great entertainment and instant quality photos for personal and business occasions.
Special Occasions
Wedding Receptions

Bar/Bat Mitzvahs

School Events

Class & Family Reunions

Fund Raisers
Business
Trade shows

Corporate events

Advertising & promotions
All portable photo booth rental agreements are designed to make your photo booth as user-friendly as possible and include extensive goodies such as:
Leave-behind scrapbook

Props

On-site Attendent

Complementary Disk of all photos with permission to print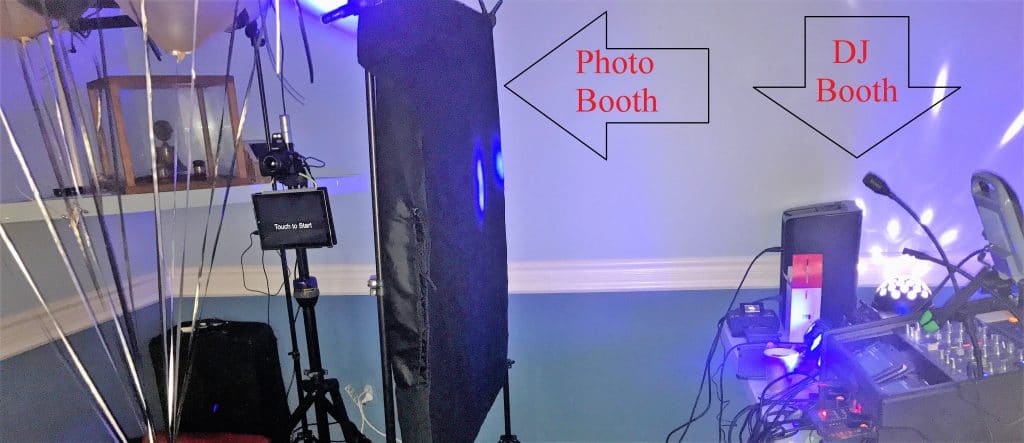 Booth can be curtained or open-air.
Camera can be raised or lowered as needed (for kids parties, or sit-down booth)
Size and footprint of booth can be adjusted.
Different backgrounds, including green-screen, available.
Can collect phone numbers and/or Emails, for corporate events.
Can print company logo, or contact info on photostrips.
Use our fun props, but also feel free to bring your own.
Professional Photobook of highlights, and CD-rom of all photos is included, and will be delivered by USPS 10 to 14 days after event.


Frequently Asked Questions:
At what types of events are photo booths most popular?
A photo booth is guaranteed fun for all types of events including: weddings, bar/bat mitzvahs, quinceaneras, corporate events, holiday parties, birthday parties, fundraisers, etc. People of all ages and backgrounds love photo booths!
Is the booth easy to use?
Yes, the booth is very easy to use! Just get in, smile and pose for your photos! The booth will take 3-4 shots approximately 5-10 seconds apart; each photo will be displayed on a preview monitor inside the booth; and in less than 1 minute, the pictures are printed and available to take home!
We're on a budget and won't need the entire evening. Do you have limited-hour packages?
Yes, our pricing accommodates those looking for short-occasion packages for 2-3-4 hour rental times. Please ask about these discounted packages.
Can the photo strips be personalized?
Yes, we can add a personalized logo to the bottom of each strip. Please inquire for more details.
Is there a limit on how many photos we can print at the event?
No, you have unlimited sessions throughout the entire evening. With our all-inclusive package every person gets a copy of the picture!
Does the booth print color or black and white photos?
The booth prints color, sephia or black and white photos. You choose!
Is someone from your company there during the event?
Yes. Included in the rental is an on-site attendent who will be there for the duration of the event to make sure everything runs smoothly.
Are there special power requirements to run the booth?
No. All that is required is access to one standard 110V outlet within 30 ft. of the booth.
Are the photos printed right on the spot?
Yes, the booth will print photos within seconds for your guests' immediate enjoyment.
What about props to make the pictures fun?
Yes, we provide boxes of props for all occasions!
Do you offer a scrapbook?
Yes, it's complimentary and we cater to any theme – weddings colors, seasonal motifs or topic! You name it and we'll get it! Here's how it works: Guests will be provided with double prints – one for each person and one for the scrapbook. Guests may also choose to write a message to go along with it. Scrapbook, scissors, glue sticks, and pens are all included.
Can I get copies of all the photos after the event is over?
Yes. A complementary CD of all photos taken at the event is included in the rental fee.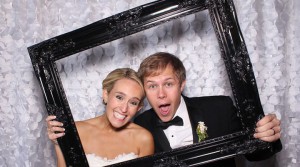 Photo booth rentals include:
*Delivery
*Set-up and break-down of booth
*Unlimited photo sessions
*Free double prints (great for a photo strip guest book)
*Custom logo (personalize each photo strip with your name, date, logo or personal message)
*Scrapbook to take home the night of the event
*A CD of all photos taken during the event
*A friendly attendant for the entirety of the event
Your people did an excellent job for our Lutheran High School Homecoming activities!  THANKS to you & them!
John – Religion Instructor, Student Council Advisor, Softball Coach
Cameron Comical Magic and Readings by Laura were AMAZING!  Rob with the Photo Booth was extremely helpful and tolerant with us!  We received several compliments from all our attendees and they were all still talking about them in the morning at breakfast.  Our convention was extra awesome this year because of you.  We have used your company several times and have never been disappointed and this year is no different.
Thank you, Sara, Dairy Queen at the The H Hotel 
What a great experience – professional when making arrangements, took the time to know my event and attendees, worked hard to stay in my budget. As far as the entertainment?? What a hoot! We had people kicking up their heels that I never expected. We had photo booth, magician, and DJ. They all participated in our party, they didn't just show up to earn a buck!
Marcia