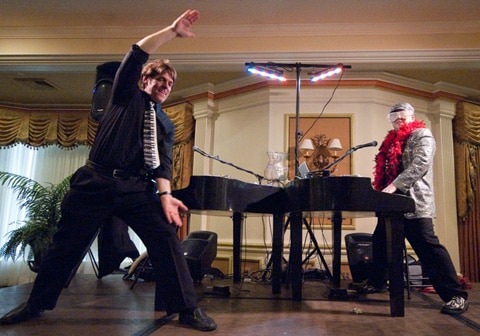 The piano players are  the Entertainment Directors, they are responsible for maintaining the enthusiasm that keeps the concept fresh. Hand picked from only the finest regional talent, they are thoroughly trained and motivated to keep the audience happy, by always developing fresh new routines
A Dueling Piano show may include bringing the waitstaff up on the pianos for a Showtime,  or bringing up a whole party for The Unicorn Song, or some other interactive skit.
So who are the fans of this interactive concept? For starters, they are of all ages. Although there are many regulars who frequent the same clubs, you will never find exactly the same people at many of these establishments on any given night. You may see traveling business people and conventioneers in search of local color. You will see singles and couples. Many people find the venue perfect for birthdays, anniversaries, conventions, bachelor, and bachelorette parties.
Not only is this the newest craze in nightclub entertainment, but this concept is especially great for receptions, holiday parties and corporate events. Everyone is drawn together by the camaraderie and nostalgia to form one large, synergistic party, swaying to the music, bellowing out familiar lyrics. This concept bases itself on the simple fact that everyone wants to have a good time. The Dueling Piano "experience" is not only incredible fun, it is also very unique. The guests are not just entertained by the piano players, they become part of the show!
Planning a Wedding, Party or Prom?
Rusch Entertainment's Dueling Pianos are the newest rage in interactive entertainment! The piano players are the ring masters – they run the show, get people clapping, laughing and singing. Often other instruments are used as well as pianos. They are comedians as well as top notch musicians with an unbelievable repertoire of music. Request slips are put out so the audience can request any song from any genre and have a great shot at hearing their favorite song. They may also write a colleagues name who is celebrating a birthday, wedding anniversary, ect… and have them roasted with a funny song, or dressed up like Elvis, Tina Turner, The Village People, ect…This interactive concept has grown rapidly in the past few years and has shown no sign of letting up.  Why? One very simple reason, people love to interact and especially have fun. The guests are not just entertained by the piano players, they become part of the show!  The fans of this interactive concept are of all ages.
School Functions
Weddings
Reunions
New Year's Eve Events
Dances
Festivals
Corporate Events
Fundraisers
Chelsea & Adam's Wedding at Black Forest in Frankenmuth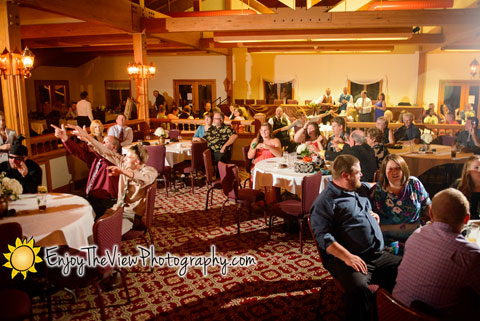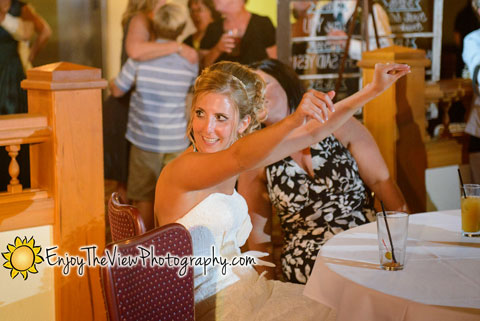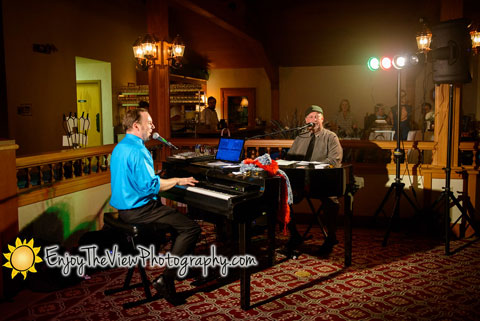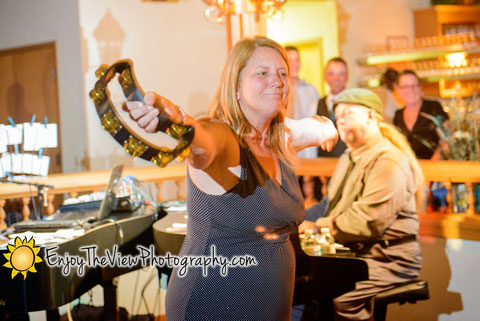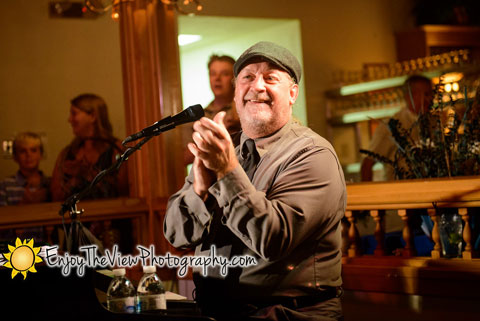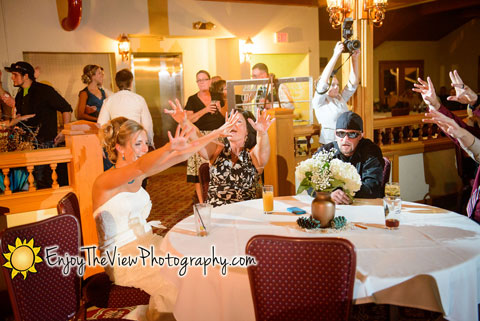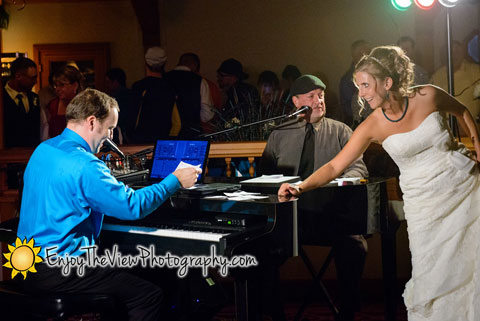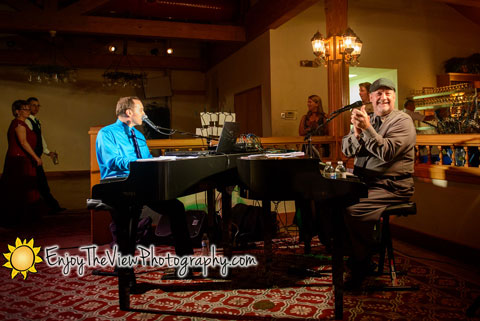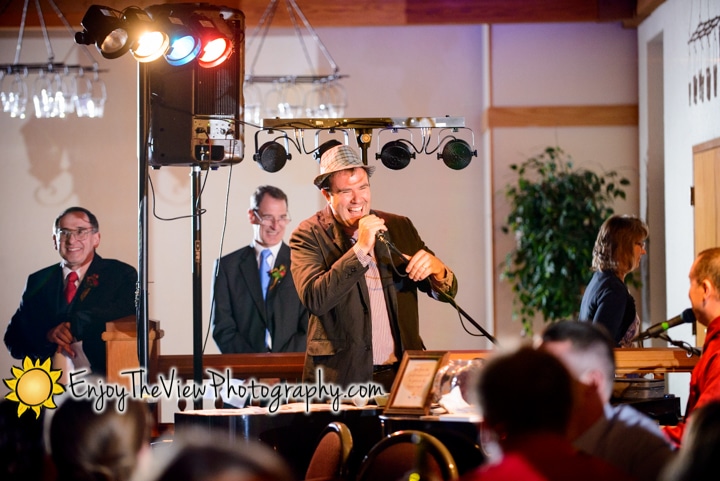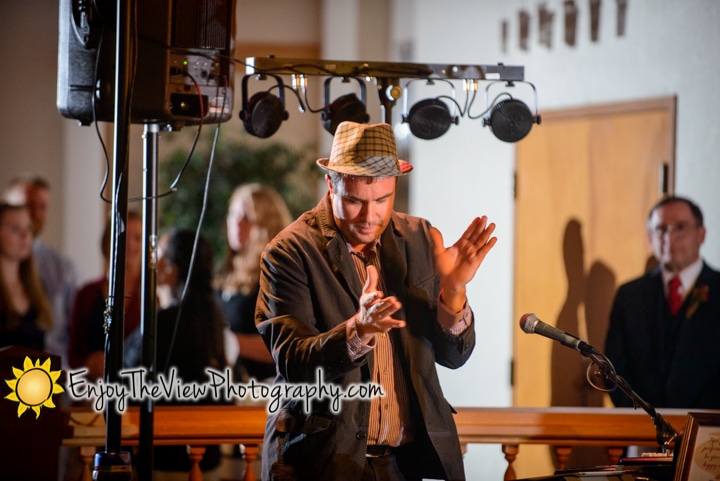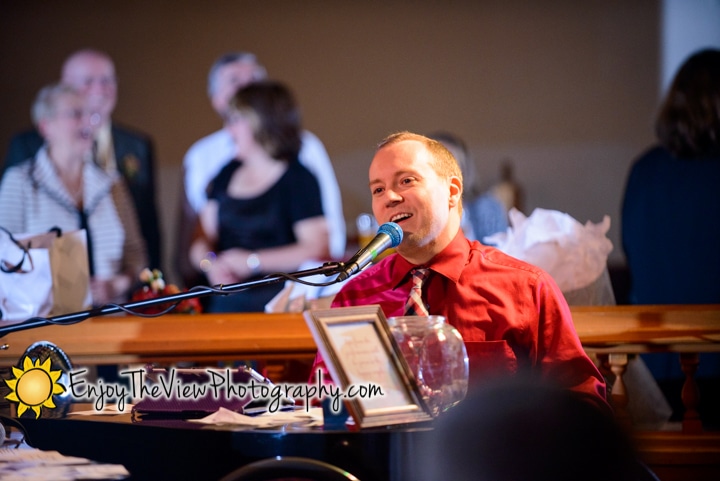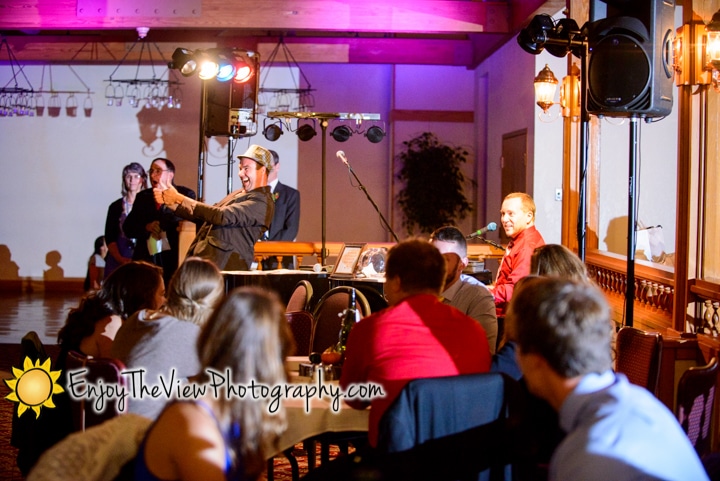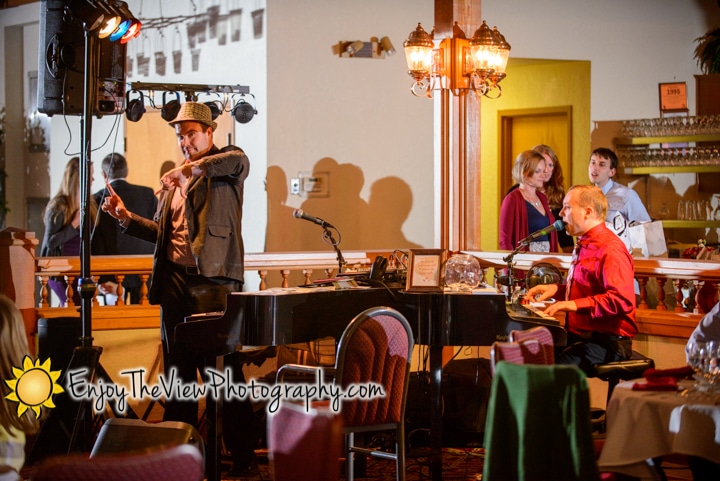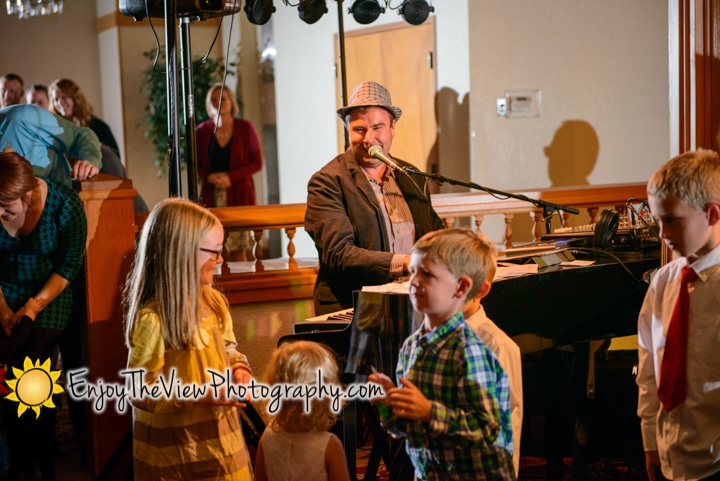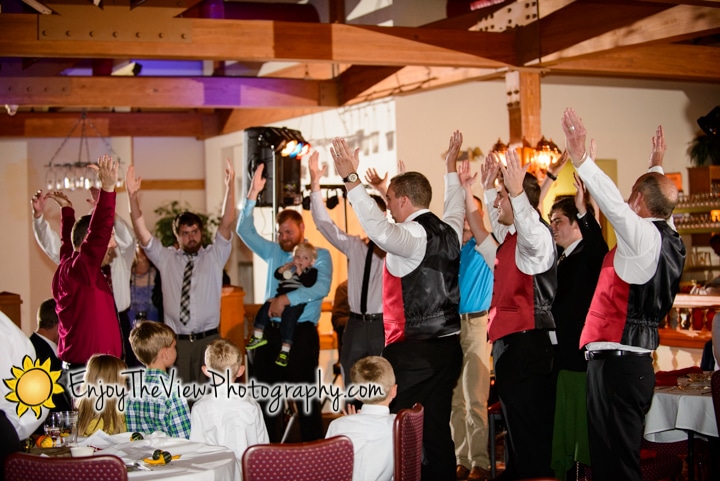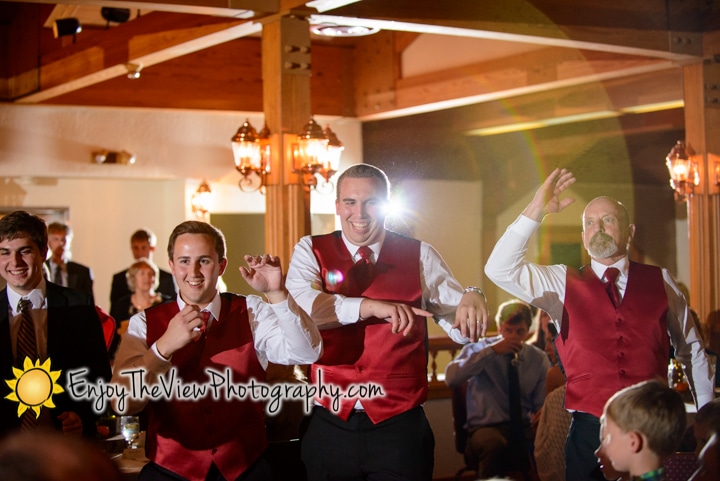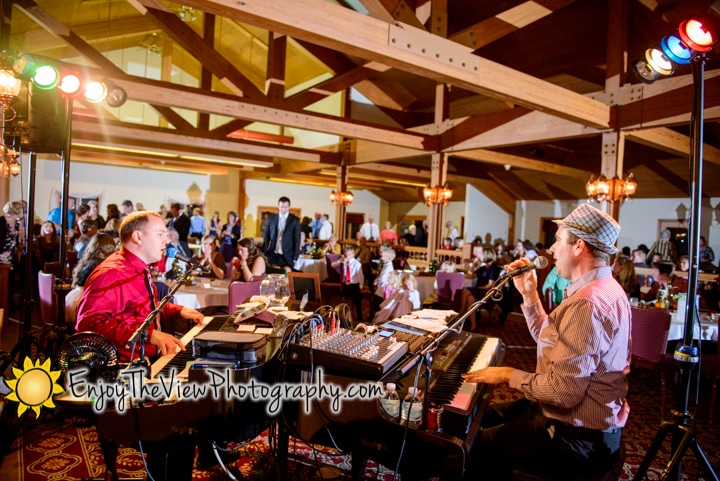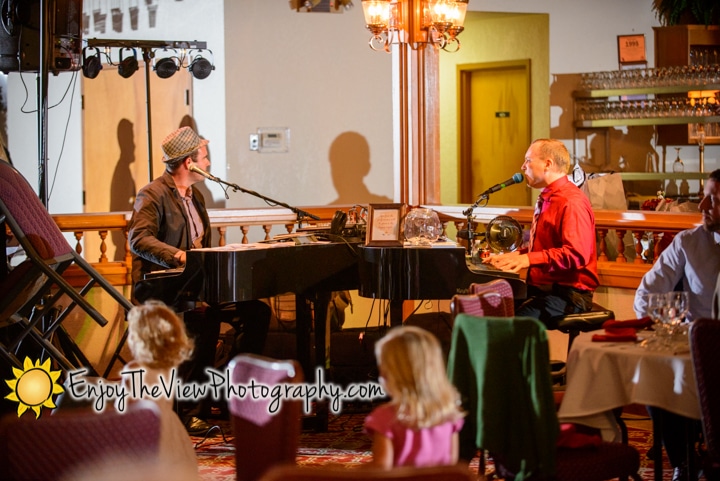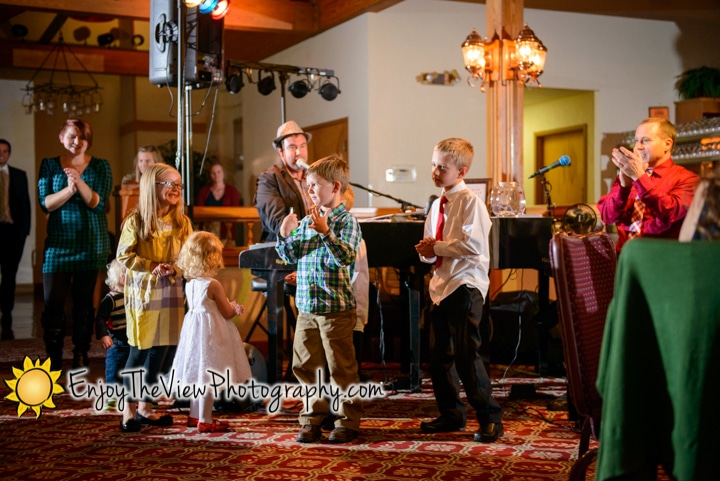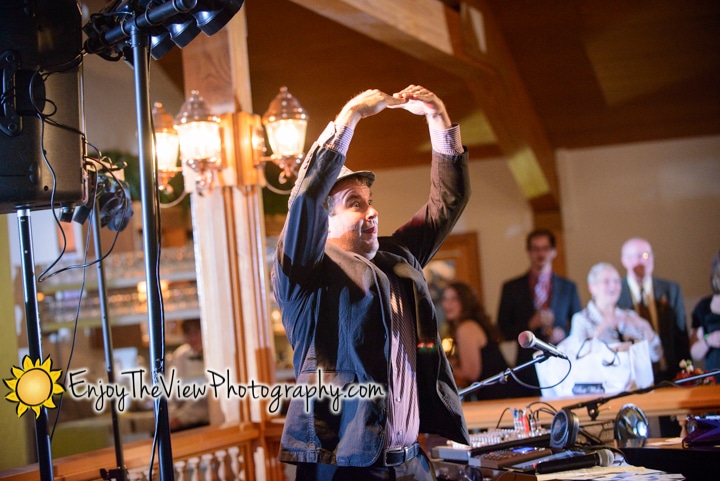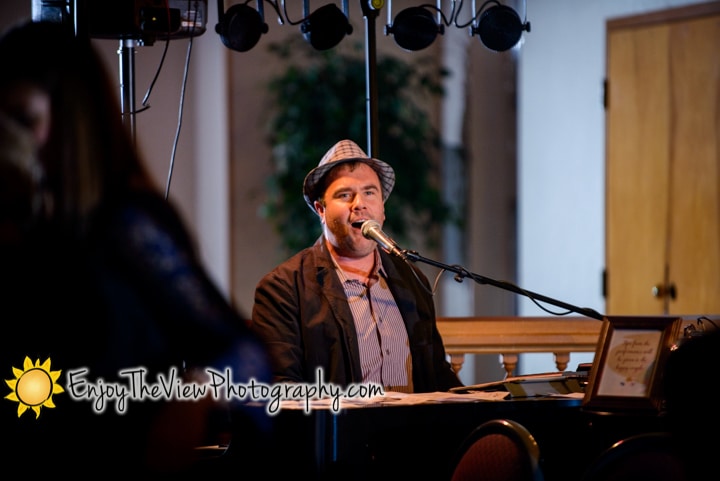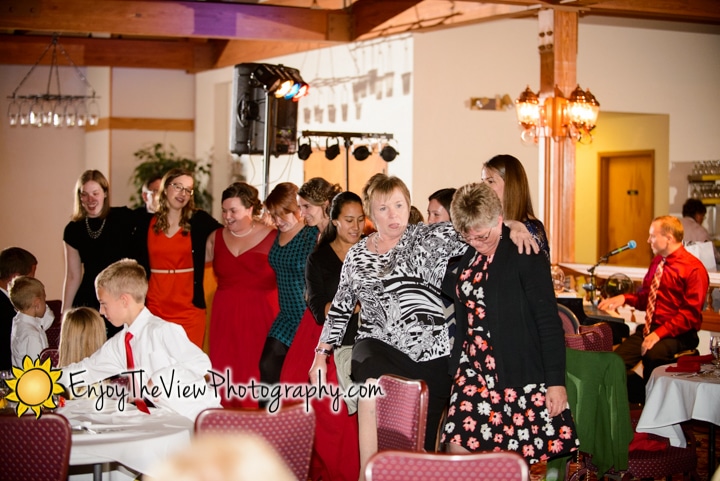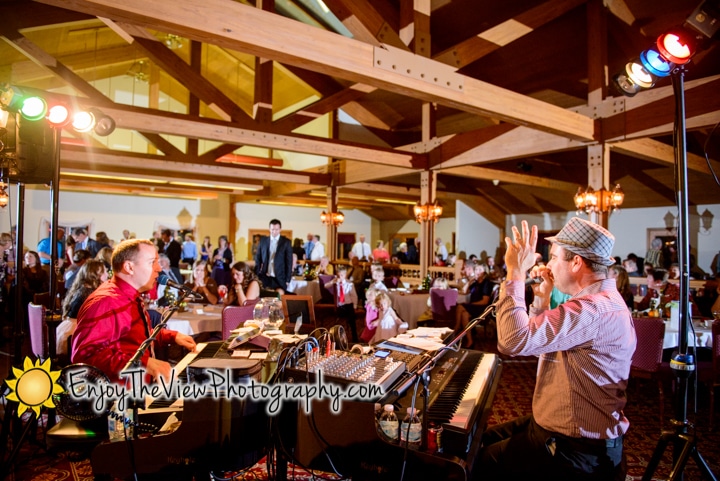 Catie said Simply:    Incredible!!!!! Dueling Pianos/Comedy/Entertainers for Catie & Travis's wedding in Ossineke with over 200 guests. 
Rusch Entertainment has been a pleasure to work with, the entertainers have been friendly, professional, and very entertaining for all of our attendees. I will definitely use them again for future events.
Bob – Dueling Pianos at FireKeepers Casino Hotel, National Electrical Contractors Association
Hello Dean,   The Dueling Pianos entertainment was fabulous! We actually had employees who were saying the wished the show was longer! They did a great job, we were very, very impressed. It looks like we may be a repeat customer of the dueling piano act at the Holiday Inn of Midland!   Thank you!!
Arianna – Human Resources Generalist – Life Sciences 
Hi Dean,   We had a fabulous time!  Mike and Tim were awesome and the employees and retirees just loved them!  I haven't laughed that hard in a long time!!   I think the consensus is we will be having them back next year.  We booked Dwayne through you last year and he was awesome.   Thanks for everything!  I'll be in touch next year!
Juli Jones – C G & F Compay – Lenawee Country Club     
Hi Dean!  The Dueling Pianos.  Everything went smoothly, no issues. Thanks for booking 3 years in a row!
Nestle / Ice Mountain Company Party at the Holiday Inn Hotel, Big Rapids
Hi Dean,
The Dueling Piano guys did a fabulous job. Everybody loved the act and the individuals. I am sure our board will want me to bring them back for our party in January 2017. Thank you, you helped to make our event a huge success at the Fire Keepers –  Battle Creek
Bob, National Contractors Association
Thank you so much for providing the entertainment for our wedding in September. the pianos were excellent, all of our guest loved them. we even had some guests say this was the best wedding they have been to.
At Black Forest
Franklin Inn, Noel Leaman Dueling Pianos- thank you so much for making our wedding the BEST. we are very happy with everything, they got the audience going and the party started. they played for an extra hour at no cost!
At Franklin Inn
Everything went very well!! They were able to get the crowd going which isn't always easy to do. Couldn't of asked for a better Dueling Piano.
At Soaring Eagle Casino
To Dean – Wedding Dueling Pianos
Thank you so much for providing the entertainment for our wedding 9/26/15 at Black Forest!  The pianos were excellent!  All of our guests say this was the BEST wedding they have been to! Thanks Again!
Adam + Chelsea – Black Forest Brew Haus & Grill  
Hi Dean,   Noel Leaman and his partner did a fantastic job at our High Heels and Hard Hats Gala on Friday.  They had great synergy and engaged the crowd during their entire performance.  We retained quite a large group throughout the event.  I would highly recommend them and look forward to using them again in the future.   We are planning another event for next year and I'm interested in what other great performers you have that we could use the engage our attendees.  Let me know your thoughts.   Thank you!
M. R.  Habitat for Humanity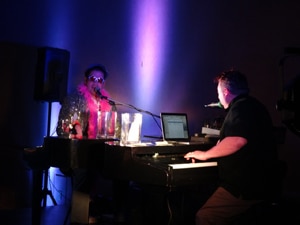 Dean,  Everything was excellent at our January Post Holiday party!  Corey handled all the logistics and announcements very well, including his own DJ activity.  The comedian, Mike Green, was one of the funniest guys we have ever seen.  The house was in stitches, with tears running down faces, and jaws hurting from laughter.  He was non-stop, the quips and jokes just kept rolling out of him at a pace I haven't seen in many comedians.  The dueling pianos were the usual high energy great act also, with everyone singing along.  All-in-all everyone had a great time and enjoyed the entertainment, even though we crammed a lot into the time period.
Thank you for your usual great assistance,
Ken
The dueling pianos were absolutely amazing! Everyone really enjoyed them. Laurel was also really great. The ceremony music was so beautiful!! Thank you for getting us set up with them.
Michelle Hopkins – Castle Farms
I wanted to personally thank you for coordinating our dueling piano entertainment for our Holiday Party this year. The two gentlemen that came were truly one of a kind and did an amazing job. They are so musically talented, there wasn't a song requested that they didn't perform perfectly. Their performance exceeded all my expectations. They performed with enthusiasm, humor, charisma and kept our associates laughing and entertained throughout the evening. They even got them as well as some of our managers involved with the show which our associated are still talking about today! I would without a doubt recommend them for any event. It was a pleasure working with you and the dueling piano extraordinaires!
Mindy King, The H Hotel; Midland, MI
They were PHENOMENAL!!!!  Kids said it was THE best assembly ever!!!
Everybody LOVED it!  THANK YOU!
Gail Tuthill, School Assembly