Highly Rated FUN Disc Jockey! Your goal should be to find the ONE DJ that "keeps the party going every single minute, NON STOP", like DJ Casey does! He'll bring a great variety of music and fun lighting!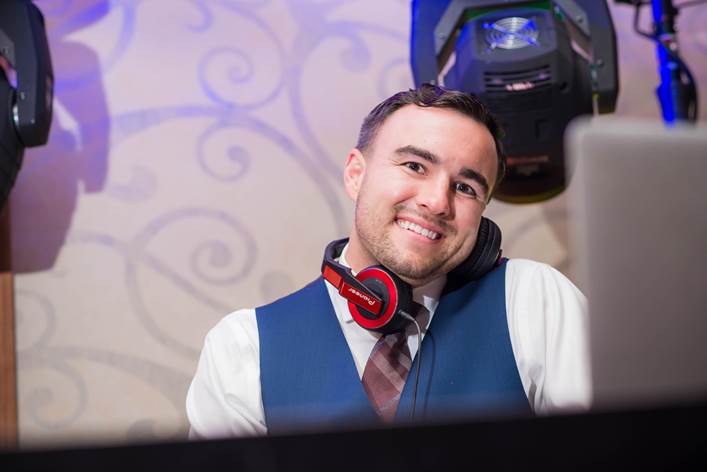 2016 Rusch Entertainment Featured in DJ Times … read more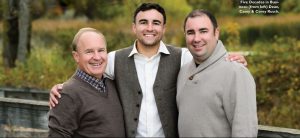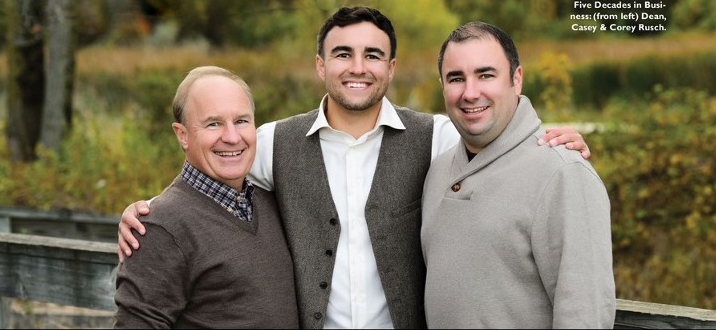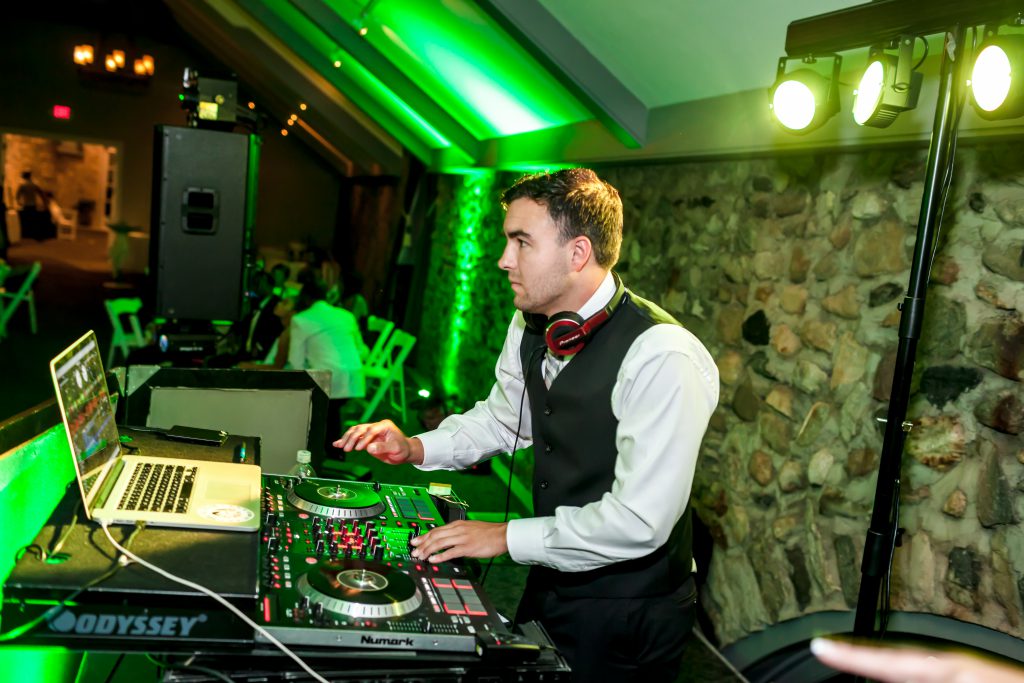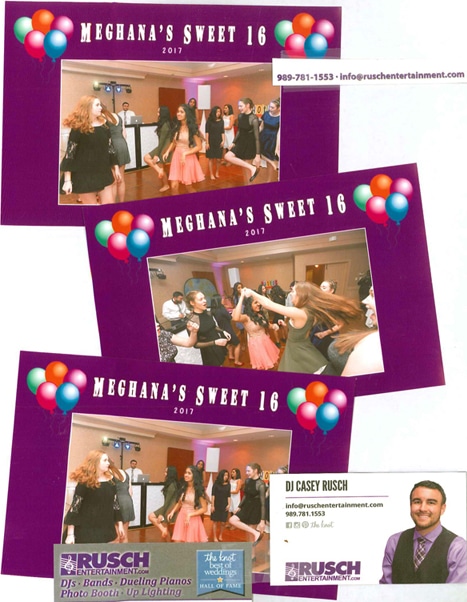 Casey at Castle Farms - photos courtesy of Oden & Janelle Photography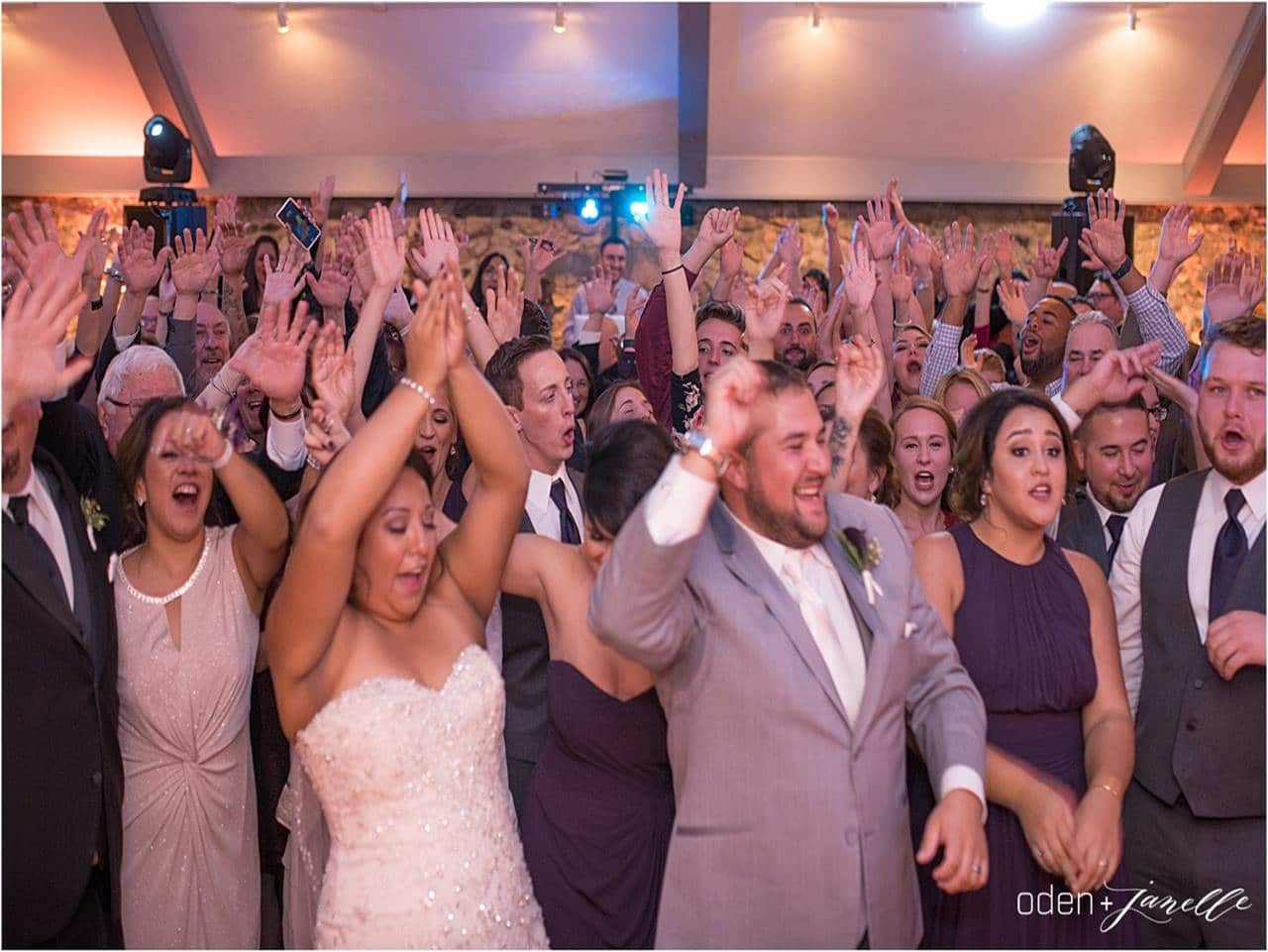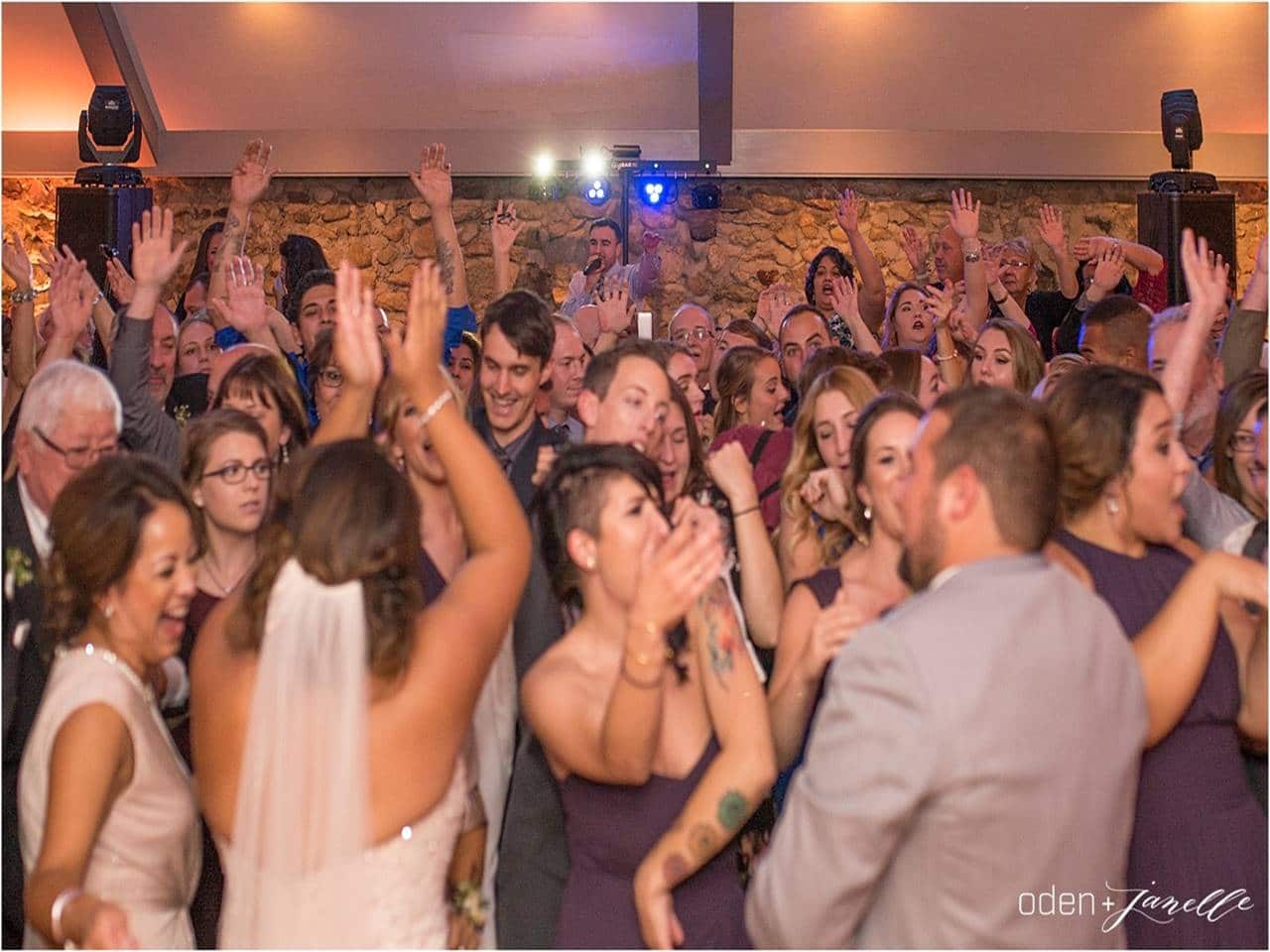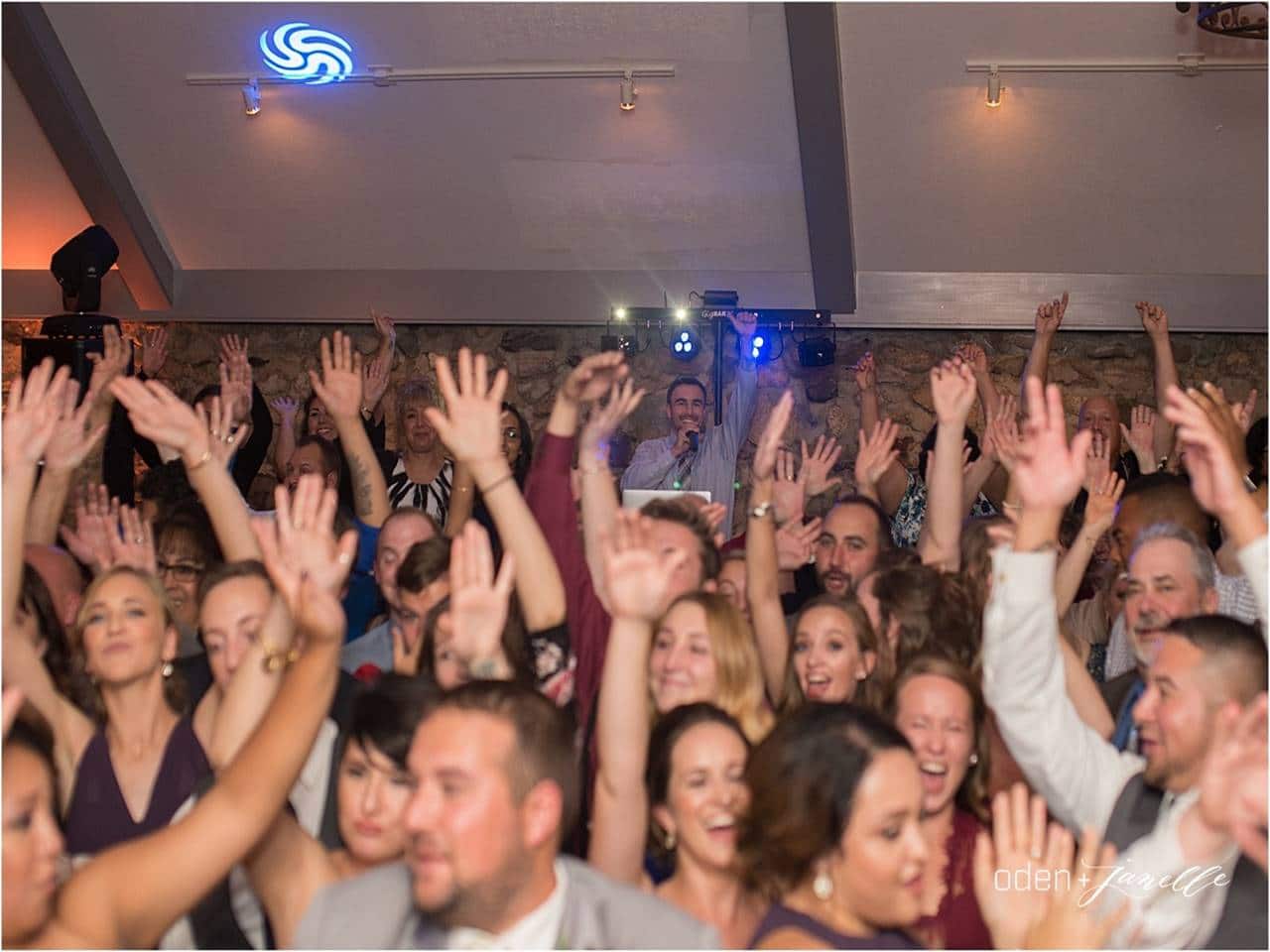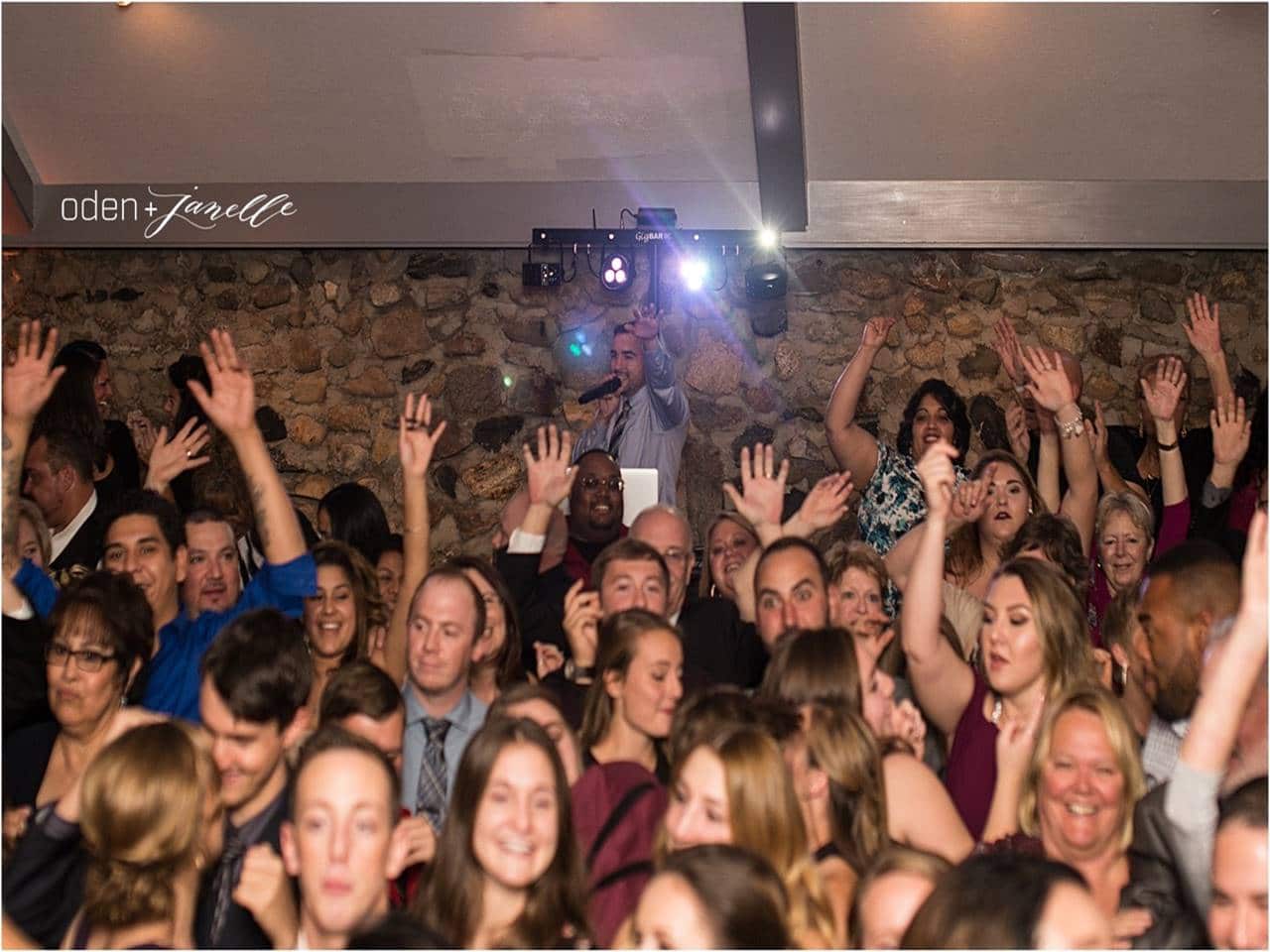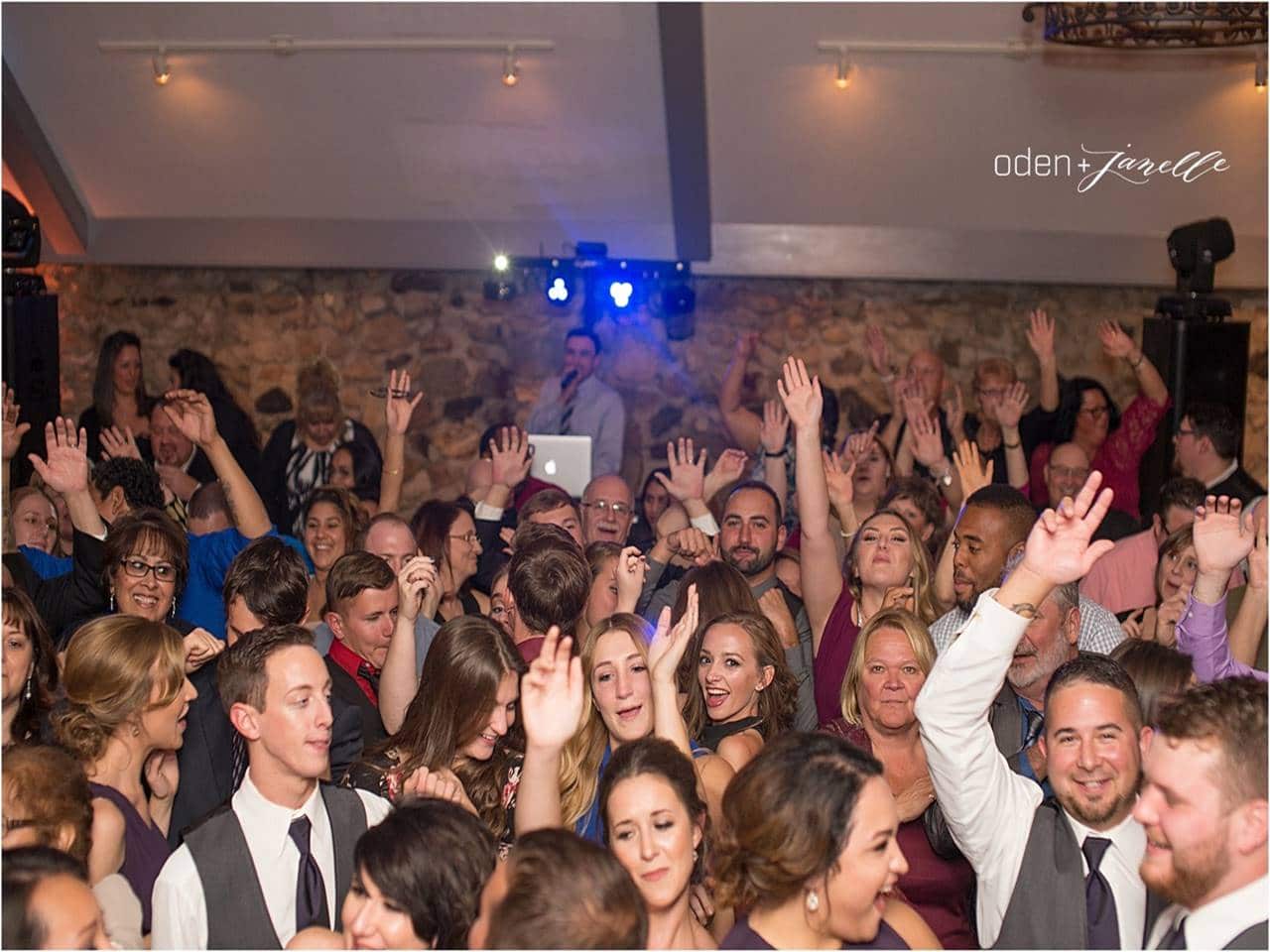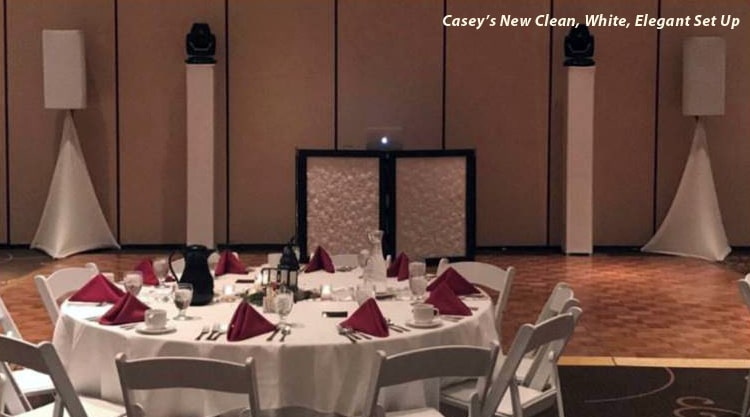 DJ Casey packs the dance floor at Horizons!


---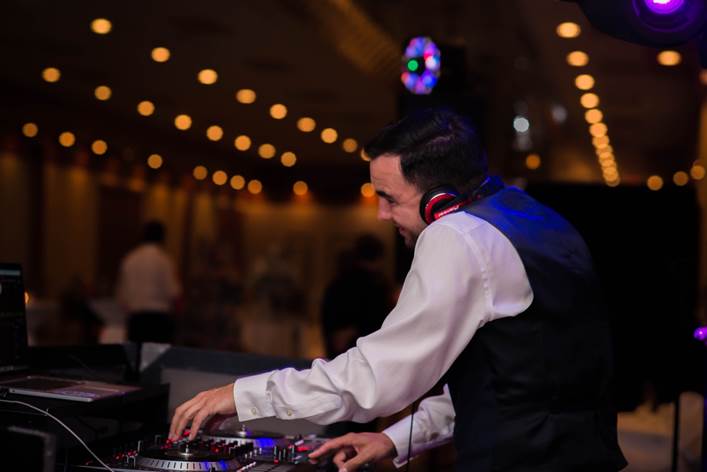 xxxxxxxxxxxxxxxxxxxxx
Casey Lights it Up Beautifully!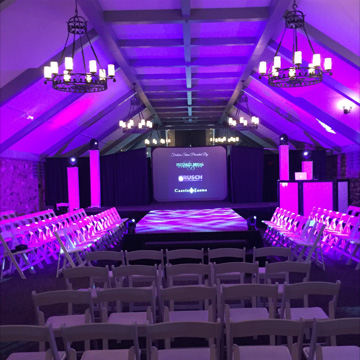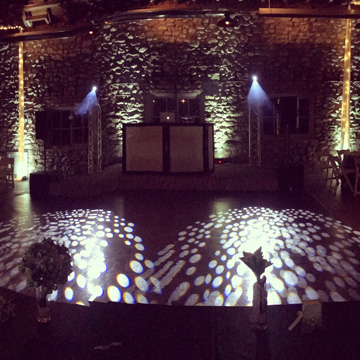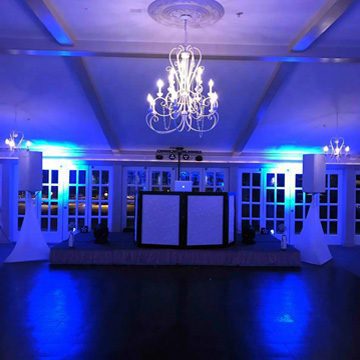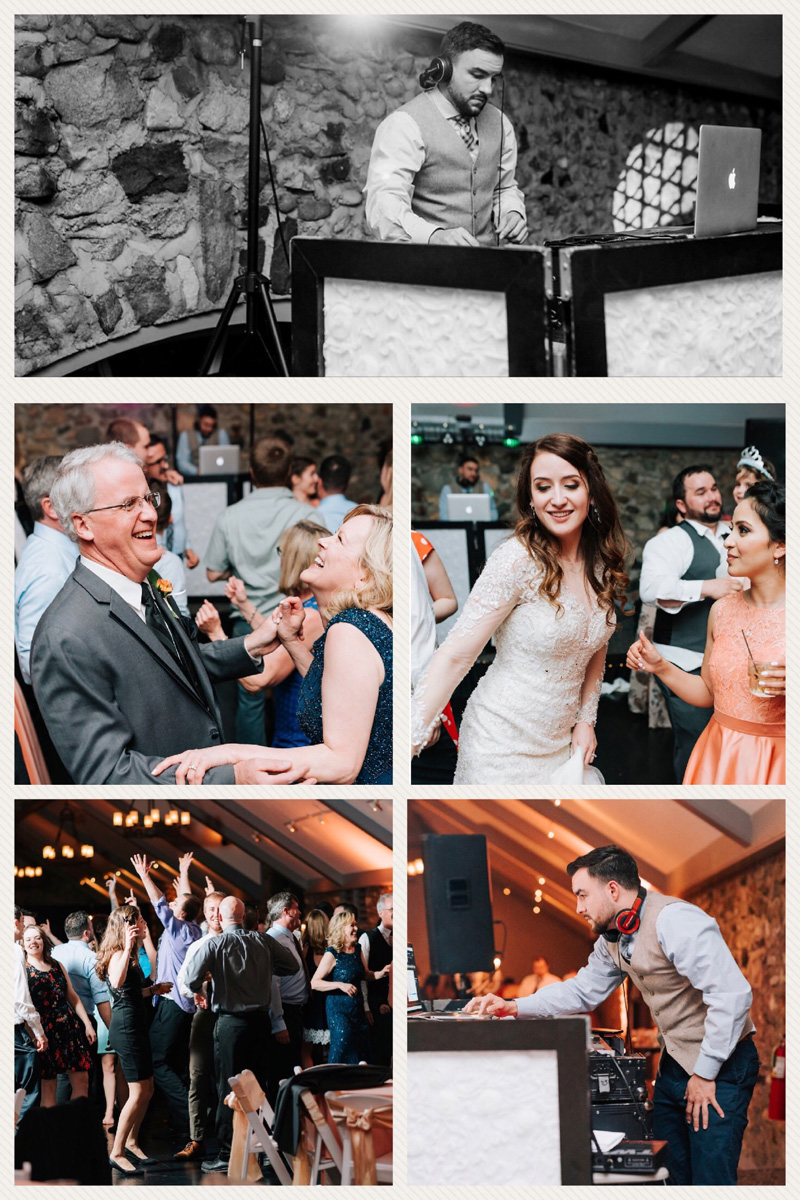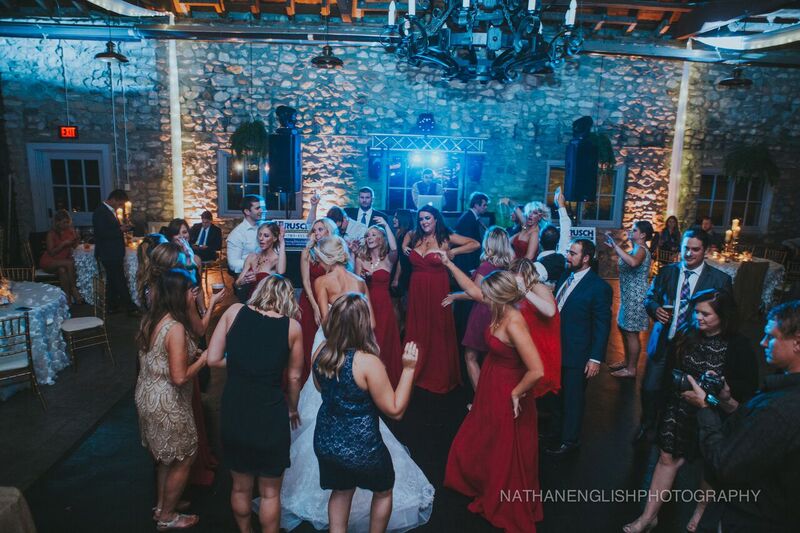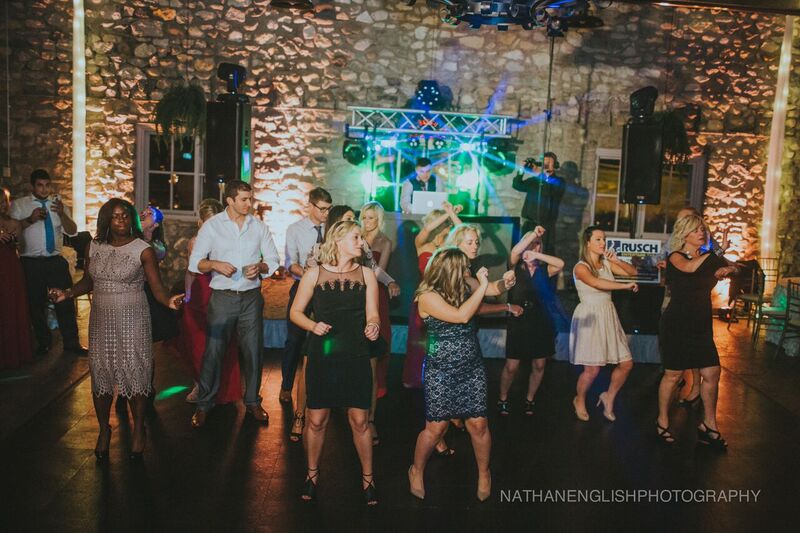 Castle Farms weddings are more fun with DJ Casey!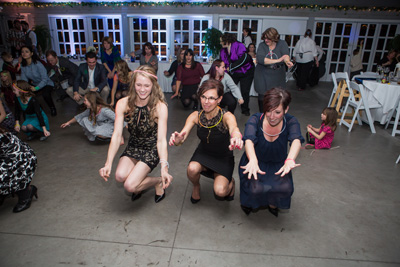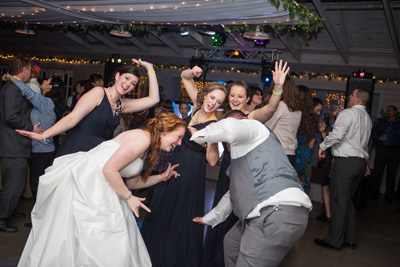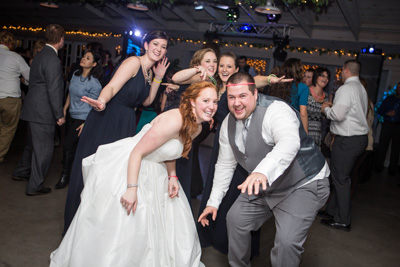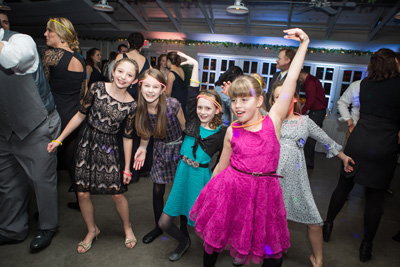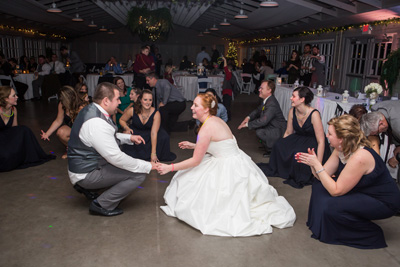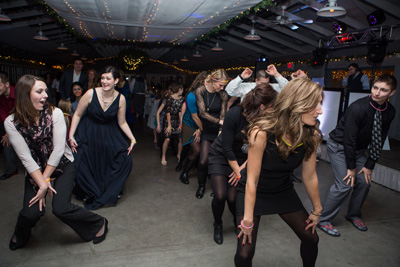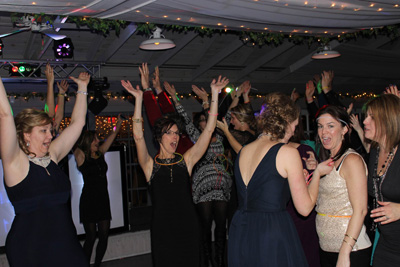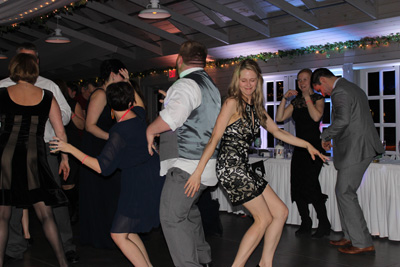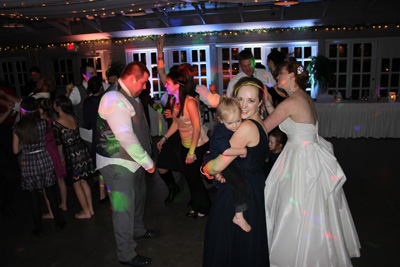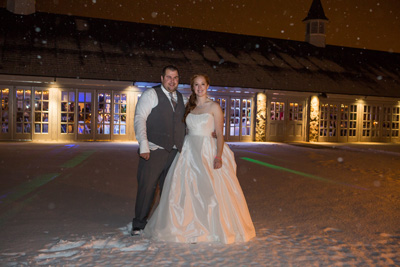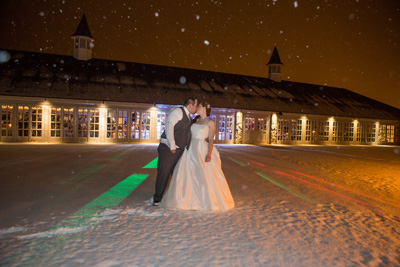 Photos Courtesy of Lisa Hodack Photography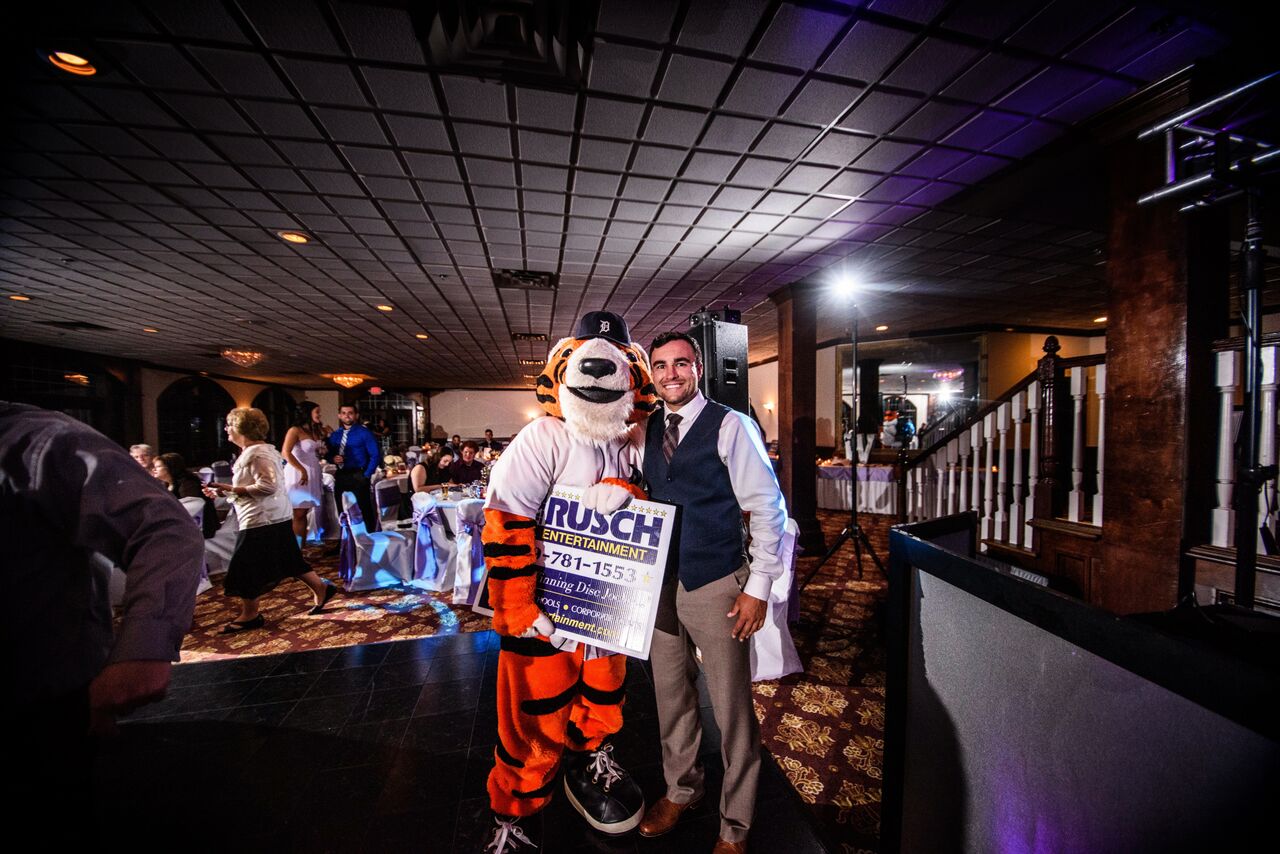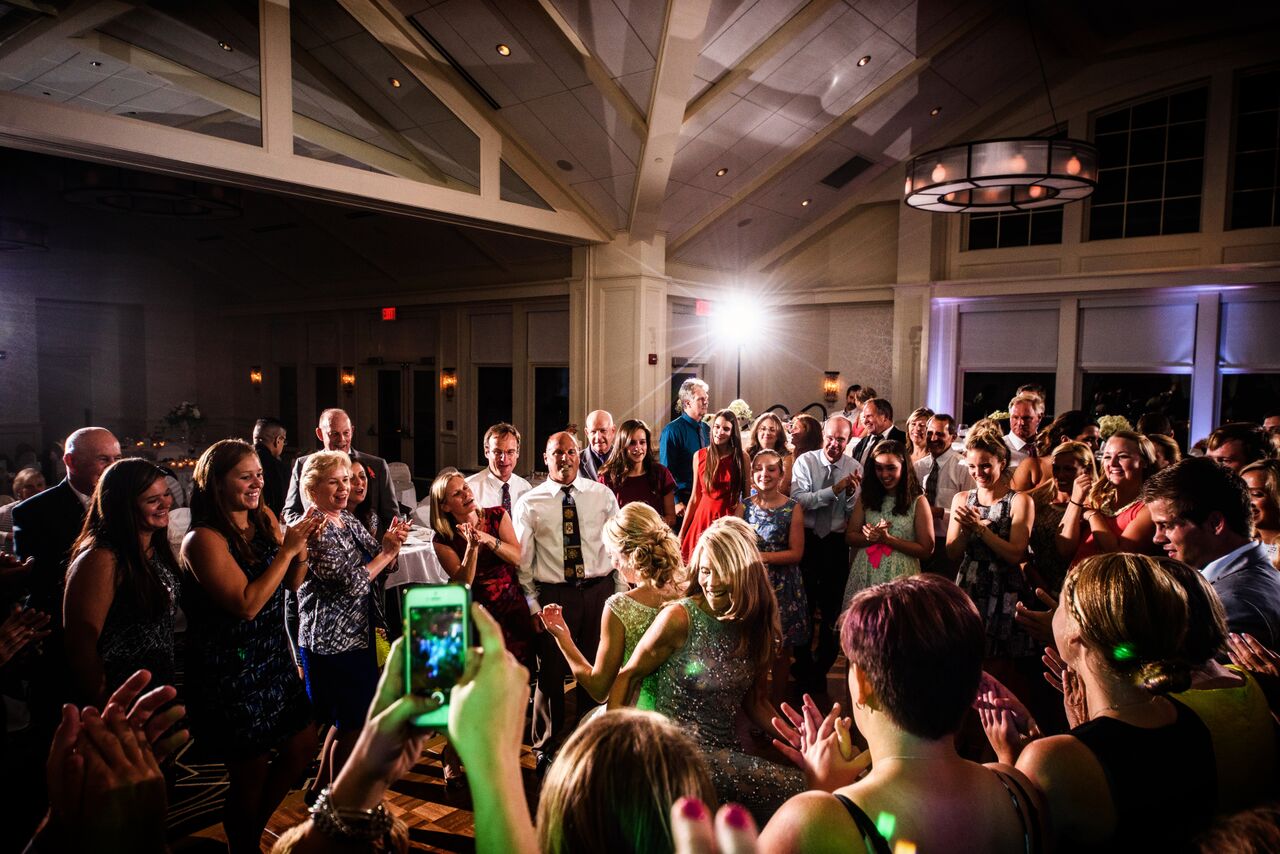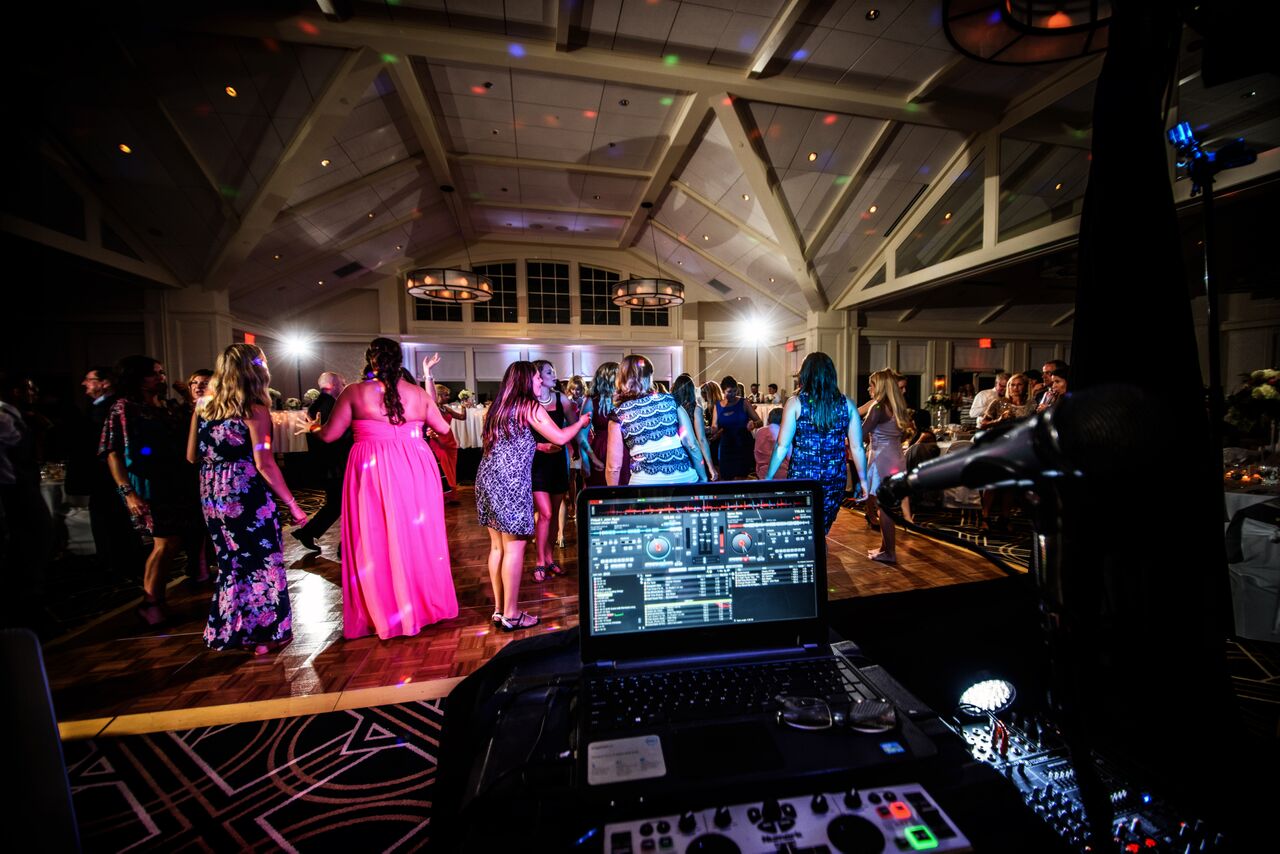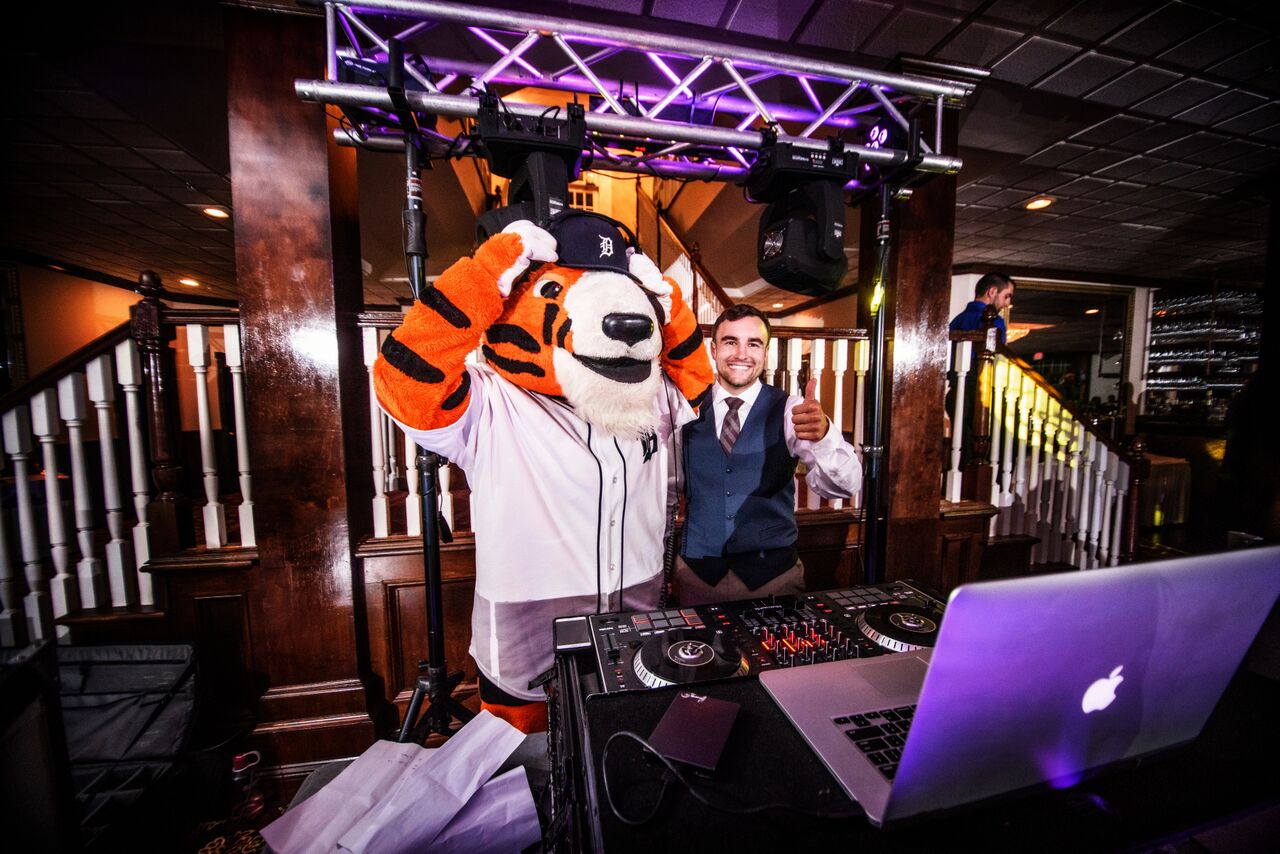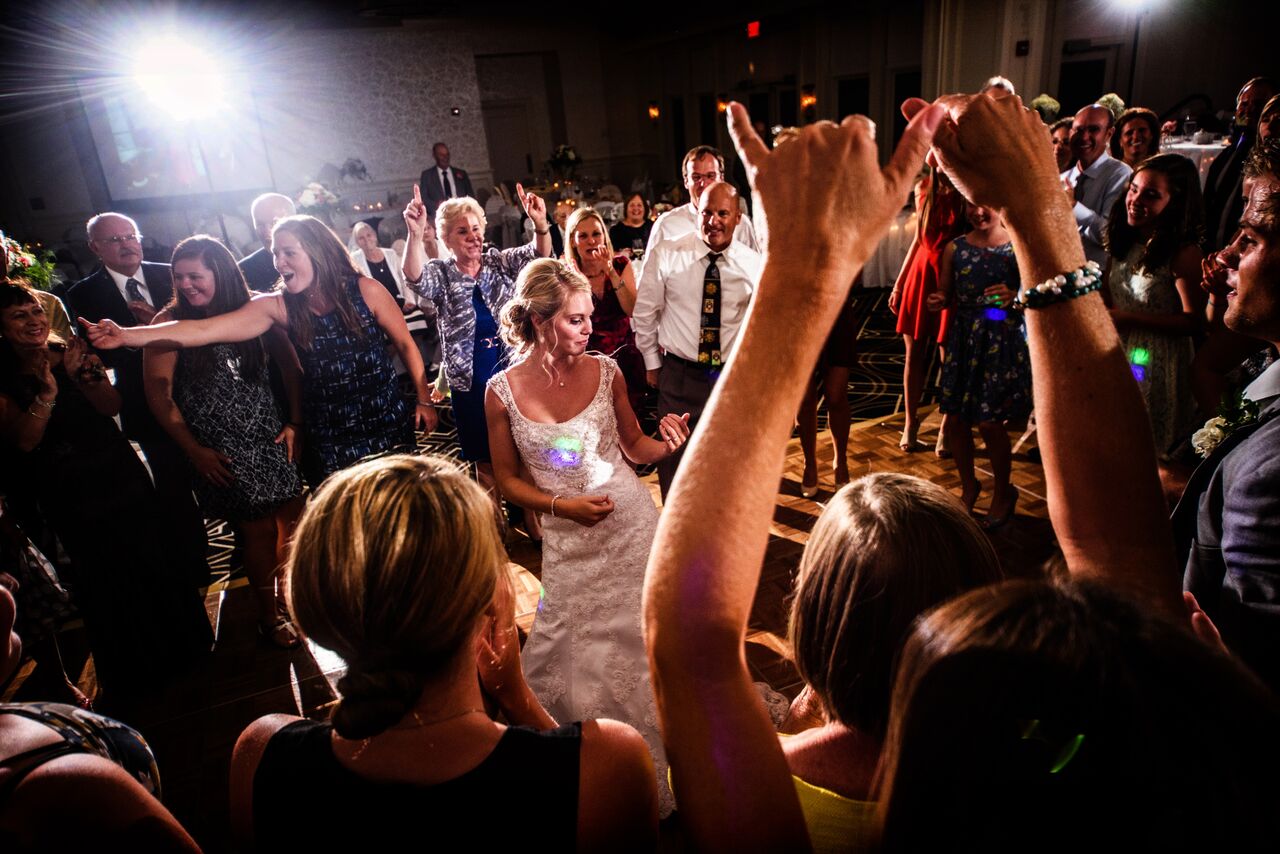 I will start out by saying that I was the bride who thought we didn't need a DJ–we knew some specific music we wanted, and were looking for someone who understood our tastes and expectations, and I even argued with my now husband that we could "just put on an iPod." An iPod could not have saved our wedding. Casey did. Having a weather disaster during your outdoor reception (monsoon-like storm passed over at the beginning) is less than ideal for most couples, let alone vendors, but Casey absolutely outdid himself. Even when there was a power outage and his equipment was getting dripped on, he found a way to make things work and insisted on staying. Not only that, but he took the initiative to start playing some rain-themed music ahead of the usual dance events and everyone LOVED it. The dance floor became the high ground from the water, and people were there the entire night. Our reception would have absolutely fallen apart without his spirit and help. We were deeply grateful from the bottom of our hearts, and are preaching the gospel of Rusch to every engaged couple we know. I'd give fifty stars if I could.
Tracy
DJ Casey Rusch was our DJ for our June 3rd wedding at Jordan valley barn. He did not disappoint. The ceremony music was perfect, he was very helpful in coordinating with everyone for all of the important dances and keeping us on track, and kept the dance floor alive all night. Our guests really enjoyed themselves and commented on how great he was. Would definitely recommend him to anyone looking for a DJ for their wedding!
Casey was AWESOME!!  We were so happy with how professional he was!  He had our dance floor packed all night!  Guests from the wedding downstairs were coming up to dance with us!  We had several compliments on how great he was! Thank you!
Juliette and Tyler Young
Hi Dean, Thank you so much again, Casey did an amazing job as usual!
Regards,  Victoria M. – Event Coordinator Apple Mt.
Casey was excellent. He absolutely killed it! Everybody was dancing all night long and everything we wanted to happen happened.  Thanks for such a great evening.  Give our thanks to Casey again as well – he really did a phenomenal job.
Thanks again,  Matt W.  –  The Michigan League, Ann Arbor
Casey was incredible!! I think there were people on the dance floor the entire evening…even got the groom out there many times which isn't easy to do. He was professional but fun, stuck to the schedule but also improvised at times that worked out well. I was afraid that our choice of mixing 80's with new age music would be difficult to understand, but Casey was able to handle the task seamlessly. Also, the up-lighting looked absolutely amazing and really finished off the room.  The night wouldn't have been as good as it was without Casey, and I am so glad that I chose you for our DJ and lighting services.   Thank you again!
Andrea – Castle Farms Wedding! Jan 7, 2017
Words cannot express the amazing job Casey did DJing our wedding. Not only did he continuously check in throughout the planning process with my husband and I to ensure that our day was everything we wanted, Casey eased the nerves of this anxious bride with his kind, reassuring words that he would make this day as special as he knew it was to us. His display was fabulous: no wires or extension cables visible, which illustrated to me the time, effort and organization he put into our day. He also provided gorgeous up lighting at our venue; adding that extra elegance to the room that we desired. And what's a wedding without dancing? Casey did an amazing job ensuring that guests did not leave the dance floor the entire night. I would highly recommend Casey and Rusch Entertainment for any event! Thank you for your amazing work! 200 Guests!
Kelly
Hi Casey,  Thank you so much for doing a wonderful job at Maggie and Rob's Wedding at the Temple last Friday night.  You did exactly what I wanted by playing music that would keep people dancing all night.  We all had a wonderful time, and as you well know a DJ can "make or break the party"!  You definitely "made it"!
Thank you also for setting up the microphone for the wedding, and being on the spot with the microphone as we needed it at the reception.  I especially appreciated you being open to turning the music down during dinner so that people could carry on conversations.  I can't tell you how many weddings we have attended  where we leave with a headache from yelling and not being able to hear the person we are talking to.  I also appreciate that you had a giant smile on your face the entire evening. You looked as if you were having fun too!
I wrote you a glowing review on the Knot, and will recommend you to everyone I speak with who is planning a wedding.  We are still on a high from such a fun night.  Maggie tells me that you will be marrying soon. Congratulations, and I hope that you have as much fun at your wedding as we had at Maggie and Robs!   Thanks for doing a fabulous job for us!
(The Mom!)  Over 200 Guests!
Casey was the DJ for our wedding on 12/10/16! Words cannot describe how excellent Casey was! He was professional, fun and so very patient! He made sure my wedding was everything that I wanted it to be. He made sure that all of the big events such as cake cutting, first dance, bridal party dance and other things ran in a smooth manner. Casey played fantastic music and kept everyone dancing the whole night. I literally danced the entire time! All of my guests complimented me on how great Casey was and how they would recommend him. I also had gorgeous purple uplighting that Rusch provided and it really made the venue shine! And they also connected me with a photobooth company. My guests absolutely loved it and thought it was the perfect touch. DC and I both are so thankful to Casey for making sure our wedding was a jammin' good time all night long!! 🙂 Thank you again so so very much!
Jennifer and DC – Scottish Rite Valley of Bay City   
My wife and I did our research when looking for a good DJ, and even with all that research, the initial stages were a bit stressful. Much of that stress was finally removed from the equation when a few of our friends referred Rusch Entertainment (and DJ Casey). Leading up to the wedding, the offices were very easy to talk to and they were extremely accommodating (DJ Casey drove from Saginaw to Grand Rapids because we requested him). Their pre-wedding form dotted every "i" and crossed every "t." Finally, the dance floor was rocking all night long. I think that's always a couple's biggest concern: will my guests be having a great time with the music. Ours did, and the night was unforgettable.
Dean,  I just wanted to extend my sincerest gratitude for the services Casey provided.  He was an absolute professional, he was fun to work with, he was extremely receptive, and best of all, he had the crowd dancing all night long.  Kelly and I cannot thank Casey enough for being such an intricate piece of the puzzle that made our night unforgettable.
All the best,   Kelly & Avelino Cortez  – The Cheney Place
( The Web said we were Grand Rapids BEST!  It looks like Avelino is happy he found us!)
Dear Casey, Jordan and i are so glad we chose you as our DJ. The music was Great. everyone had such a good time. Thanks Again!
DJ Casey at Castle Farms 
Casey,
Thank you so much for DJing our wedding. You did a great job! Also, thank you for doing of the up-lighting. It looked awesome.
DJ Casey at The Grand/Freeland 
DJ Casey,
Thank you so  much for an awesome DJ!  He went above & beyond our expectations!  We truly valued his work!
Kathleen & Jamie – Castle Farms
Casey,
You did a fantastic job DJing at our wedding! We had so much fun, our guests were talking about it for days! Thank you so much. You and Rusch Entertainment most definitely have our recommendation!
Thank you, Mike & Erica – Lapeer Country Club
Casey,
Thank you so much for everything at our wedding! You rocked the dance floor…seriously, it was packed all night! Everyone had such a blast, and you were a huge part of that! Thank you, thank you, thank you!
Sarah & Josh – St. Demetrios
Dear Casey,
Thank you for such professional service and great entertainment. Several people commented on how easy you were to work with. Everyone had a great time. I will be sure to recommend you to all of my friends and family!!
Vicki – Castle Farms 
Our school has used Rusch Entertainment to book our DJs for homecoming for the last twenty plus years. I would highly recommend Casey Rusch as a DJ for any high school dances. I find Casey to be very professional in interacting with the students attending the dance and with the adult chaperones. His personal integrity is demonstrated as he follows the rules of the individual school and does not succumb to pressure by the students to play songs that contain vulgar lyrics. His play list is current, yet, again, follows the school mandates for appropriate songs titles and lyrics. Additionally, he plays a nice mix of genres that has the most of students dancing for the entire evening. Our students thoroughly enjoyed the lights and fog  that were part of his "performance". He has the dance floor packed for the start to the finish.
Valley Lutheran High School
The wedding was wonderful and Casey did a marvelous job! I can't imagine having a more fun and energetic DJ! Thank-you again!!
Danielle Dymora  – Castle Farms  –  West Garden Room – Wedding Reception and Ceremony
Casey was absolutely amazing! Everything went so good, very easy to communicate with before the wedding. We will definitely be referring you to everyone we can! He did well with a few things that didn't go as planned! Thank you so much!    Thank you! (Casey's Dad (Dean) entertained at mom's wedding 9-19-87 in Bay City!!
Sara & Cory – Bavarian Inn Lodge  
If you need the perfect DJ, you need to call Rusch Entertainment. Casey Rusch was my husband and I's DJ on 6/3/16 at our wedding reception and he went above and beyond to make it wonderful. He played the perfect variety of music and fulfilled every request we had for him. We have a 2 year old niece undergoing cancer treatments and Casey even acknowledged her and dedicated a song to her for us. You will not find a better DJ than him. THANK YOU Casey for helping make our wedding night perfect.
Casey was the DJ at our wedding at Castle Farms. He was AMAZING! Rusch Entertainment as a whole was great to work with, fast communication, and he worked flawlessly with us to make sure everything was perfect. Rusch Entertainment is on the "preferred provider" list at Castle Farms, so that is how I was connected with them. It is hard to pick a DJ when it is such an important element of a wedding, but I am so thankful I chose them and I am so happy we were given Casey as our DJ. Thanks Rusch for helping making our day perfect and keeping our dance floor alive! 🙂
Stephanie W.
Casey, you were great! Thanks so much for making our wedding special, fun, and entertaining for our guests and us! We appreciate so much your professionalism and how easy you were to work with 🙂
The Wolls
Casey did a fantastic job!! Everyone had a great time and the dance floor was always full!!! Our wedding was beautiful with the help of Casey with the up lighting and our music! Thanks again Casey! We will be sure to pass your name on to anyone who asks us!!!     Thanks again Rusch Entertainment!
Amanda Williams – Customer Service Revenue Recovery Asst. II– East/North – Flint Service Center – Consumers Energy
Your son, Casey, was great!  The families all had a great time!  Thank you!  I will forward this to others in the committee so they can give you feedback as well.
Bridget W. – Nouvel Catholic Dance
My husband and I are African American. We wanted to make sure that our DJ could appeal to an audience that would be more familiar with R&B, hip hop, disco, rap, etc. This can be…awkward to explain. However, DJ KC had EVERYONE dancing on the dance floor all night long! We had such an amazing time! He knew exactly what we were looking for! At the end of the night, our venue coordinator whispered to us, "You guys are just so much fun, I don't mind if you go over a little." I think we have KC to thank for that.
Jessica & Derrick – Castle Farms  SUNDAY Night Wedding
Hello Dean, I  had so many compliments on my choice for a DJ! My guests loved how the music sounded in the space that we provided and loved how he played music that was current but appropriate for my older and younger guests. I thought he did a good job at making sure to play the songs that were important to my husband and I as a couple and my guests also loved giving requests.  The night was absolutely perfect and everything I had dreamed it to be. the uplighting looked amazing and the music was amazing. Thank you so much for your help at my wedding!
Emig/ Mitz Wedding  – 200 Guests at Castle Farms Kings Great Hall
Casey, Thank you so much for everything you did for our wedding! Your guidance with music selection was greatly appreciated. We received so many compliments on your services. The photobooth was a hit. Thanks again.
Desiree & Curt Kubiak – The Myth Golf & Banquet Center
Casey was great!  He kept the night running smoothly and did a great job with the music.  My guests even gave me compliments on my DJ.  Thank you so much and please let Casey know how much we appreciated his hard work on Saturday!
Thank you, Richard and Sierra Miller
My sister's wedding this past weekend was amazing!!  It could not have been a more perfect day for her and her husband.  Rusch Entertainment was a part of the amazing day and making it so memorable and great!  Casey and Corey were the best to work with and were so easy to speak with and they understood all of the details and just knew exactly what we wanted.  We could not have asked for a better company to work with on such an important day!  We will highly recommend Rusch Entertainment!!! Thanks again so much for everything!!!!  🙂
Alli Baxter – Gross/Layfield Wedding
Dean,
I can honestly say your service was the best DJ-ing I've ever experienced at a wedding. All of the benefits you described to me when discussing your company were delivered and more. Casey was not only professional and courteous, he was fun to work with and was an all around cool guy. He knew the perfect type of music to play at the perfect time and had many of our guests asking where our DJ was from because he did such an tremendous job. I will recommend your company to any and all who ask for a DJ and am thoroughly impressed and satisfied with your company. I can't thank you enough for what you've provided and for making our reception one that not only me and my wife, but our guests remember for a long long time. My guests had to drive for hours to Castle Farms!!  Well Worth it!
Thank you again. -Dan Livernois  
Oh My gosh: Casey was FANTASTIC! Everyone had a Blast (Including Mom)No Stress the way Casey kept the party going. Casey made the party FUN FUN FUN – The Reception was PERFECT! Such a GREAT Time. Worth every penny and more! Came in early to set up and Got to know them. He was Very Pleasant.
Claudia (Bride's Mom)
Dean,  I can honestly say your service was the best DJ-ing I've ever experienced at a wedding. All of the benefits you described to me when discussing your company were delivered and more. Casey was not only professional and courteous, he was fun to work with and was an all around cool guy. He knew the perfect type of music to play at the perfect time and had many of our guests asking where our DJ was from because he did such an tremendous job. I will recommend your company to any and all who ask for a DJ and am thoroughly impressed and satisfied with your company. I can't thank you enough for what you've provided and for making our reception one that not only me and my wife, but our guests remember for a long-long time. Thank you again.
Dan Livernois – Castle Farms Wedding
5 stars isn't enough. Casey from Rusch Entertainment was everything we could have asked for in a DJ for our wedding at Castle Farms. He mixed in all different genres of music and still was able to satisfy all of our requests. Every guest we've spoken to since the wedding has mentioned how good the DJ was. Every one of them. The dance floor was packed the whole time. We've recommended Rusch Entertainment to several people already. Thank you Casey and Rusch Entertainment for helping make our wedding a great day!
Ryan & Cara Reck – Our 225th Castle Farms Wedding  
Hi Dean
It went well!!!. Thank you. I liked how the DJ, KC was easy to get along with. I was running around working and did not pay too much attention. I figured that requests were being made and if someone wanted to hear something they could go request it.  The game turned out really good. People really enjoyed it. It was fun to see some people dancing in their seats.
Thank you!
Heather, Chamber of Commerce, Director
Casey is really great to work with, so down to earth and easy to talk with. He really kept the party going all night and the dance floor was never empty! Overall, great DJ and we would recommend to anyone.
Sween / Matelski Wedding – New Midland Holiday Inn
Casey did an amazing job at our daughter's wedding at Tullymore!! He played music for the service and played a variety of music through the reception that pleased all age groups.  We danced until the last song.  The communication throughout the planning process went well with a few extra conversations the week of the wedding.  Casey arrived at the scheduled time and had everything set up prior to the event.  He was open to any suggestions and was extremely easy to work with.  We would highly recommend Rusch Entertainment and Casey to others looking for a DJ.  We believe the DJ sets the tone and keeps the flow.  We were thrilled with the timing of the entire evening and appreciate Casey's attention to detail.  Thank you so much for helping to make Brian and Lisa Bandemer's day extra special!
Mother of the Bride
Hi Dean!
We are so glad we booked Rusch Entertainment for our wedding, last night at Castle Farms! DJ Casey was amazing all night long! He played a variety of music that was able to keep a crowd of people on the dance floor from the very first to the very last song of the night! DJ Casey did a wonderful job keeping people interested in dancing during our entire wedding reception. Our guests ranged from children to grandparents and all of them really enjoyed themselves thanks to DJ Casey! We cannot thank Rusch Entertainment enough for helping us pick out an amazing DJ for what will be one of the most memorable nights of our lives! Thanks again!
Justin and Lauren Greenfield, Plantation, FL
Once again we were so pleased with Rusch Entertainment at the Midland Country Club. Your staff were always so pleasant and helpful. Very prompt on responding to request. Casey did a phenomenal job for Roscoe and Cassie's wedding this past Saturday. He was very helpful ( and patient with me lol) in planning our little surprise for the bride and groom. They were expecting a surprise dance from their parents and the bridal party, but we pulled off an entirely different surprise with the Shoe Game 🙂 It was priceless! Thank you so much, and I will be sure to let anyone that asks that you are the company to go with!!
Best Regards, Laurie Cary
We were beyond pleased to have Casey as part of our special day in northern Michigan. We wanted our dance floor moved from inside to outside the day of the wedding and he accommodated perfectly! We also changed the song we were walking into 5 minutes prior and it was no problem for him! The variety of music had every single age group at our wedding dancing and it was a truly perfect night. I can not say enough good stuff about him and Rusch Entertainment, hire them and you will NOT be disappointed!
Casey DJ'ed our wedding at Castle Farms on October 12th, 2013. He was extremely flexible, provided leadership, kept the flow of the evening going, and kept the dance floor packed the entire night. He did a wonderful job with his flexibility because there was a bit of confusion as to the schedule of events for the evening. But, even though some things were mixed up, he did a great job understanding what our needs were and made sure that everything was taken care of, with a smile on his face. One thing that I would recommend is to have the DJ's follow up with an email/phone call just to review the schedule prior to the wedding day to make sure both of us are on the same page. There was an email address on our contract, but it wasn't the email address for our DJ. So, some form of detailed communication with our DJ would've been helpful. Other than that, Casey was absolutely wonderful. On the day of our wedding, my younger brother was missing his high school homecoming dance. The night before, he had just won homecoming king and I wanted to do something that would honor that special achievement. Casey made an announcement to have a circle made on the dance floor and my younger brother was recognized as homecoming king from Heritage High School. It was something that meant a lot to me and I will never forget it. I would highly recommend Casey as a DJ for anyone's wedding. He made us feel comfortable, included all the special touches we requested, and did a fabulous job announcing our wedding party. Thank you for such a memorable day. It was fantastic!
Castle Farms Wedding!!!!!!!!!!!!
My husband and I wed at the Inn at Bay Harbor in Petoskey, MI in July 2014. Casey did such an amazing job with the music and lights! He called me a few days before to make sure everything on my playlist was set and final and to ask me if I needed anything else before my big day. He played all our favorites – 90s, 2000s and club/electronic songs. My husband and I were on the dance floor the entire night. Rusch entertainment is definitely the best choice for your DJ – make sure you ask for Casey! 110% happy with his DJ services! HIGHLY recommend!
Casey was great to work with. We had a few glitches with our Michael Jackson impersonator and he handled everything great! Our guests had a great time, and the dance floor was packed the entire night – everything I could have hoped for with my wedding. I'm a wedding photographer myself, and I've never seen a better DJ at any wedding I've shot – that's why I made sure I requested Casey for my big day! The whole team at Rusch is great to work with! I recommend Rusch to anyone that asks me about DJ services at the Doubletree Riverfront Hotel, Bay City!
Bride/Photographer: Molly Lyn Photography 
What an amazing experience we had working with Rusch Entertainment and DJ Casey. I have never danced so much in my life and never had so much fun at a wedding than we did at our wedding in June. Casey was able to pack the dancefloor with ease and we had a blast partying all night. What a phenomenal DJ and someone I would recommend to anyone in search of a DJ. If you are looking for a DJ for your wedding look no further than DJ Casey. Dean will hook you up with Casey and I promise you will have the night of your lives and one not only you, but everyone in attendance will remember!
Taylor S.
Casey was our DJ and he did a great job all night. The lighting he added really made the room pop and look like a party. He did a good job of mixing the music in and out to keep the dance floor rocking all night. We had a blast and would definitely recommend him for your wedding reception.
Robert B
Everyone had so much fun at our wedding – you really made it a great party!  We had a few people say it was the best & most fun wedding they had ever been to. I was nervous about how the polish music would blend in but it was great! Thanks for making it such a great event! We had a BLAST!!
Maria  & Frank
DJ KC was a riot to work with at the Castle Farms . As a wedding professional, the fellas from Rusch Entertainment are always on site with smiles and a clean presentation, making them a pleasure to work with every time! The energy these guy bring to an event, takes every evening from regular to extraordinary! The added features of up-lighting and a custom play list really make the reception unique to your personal taste. I recommend Rusch Entertainment to all of my clients.
Meg at Paxton Photography
DJ (KC) looked very professional. He kept everyone dancing and even the people who didn't want to dance, he was able to get them to dance with us all. We had less expensive offers, but that didn't mean it was the one to go to. Rusch DJ service, was amazing and we would highly recommend them to anyone for any party. We plan on using them again in the future.
Nicole R., Flushing
I just wanted to thank the D.J., Casey, I had for my wedding. He was AWESOME!!!!! There was never one song where the dance floor was empty. He helped people to learn the popular dances. Again simply AWESOME!!!! I have used Rusch for my daughters wedding and now my wedding that was a week ago today. I would be happy to recommend everyone I know to your services. Thanks again for making our day special!!!
Melissa Rousseau, Brass Bell, Chesaning 
KC did a great job playing a Wide Variety of Dance Music John's Birthday.  Everyone had a lot of fun, and he kept it moving. Especially considering he had to fight his allergies while doing it! He was a trooper!
Lori Blaker, Oxford
The kids loved KC for the last dance. I am sure whatever he played last time is great with the kids 🙂
The advisor for homecoming thus far is Maria Arebalo unless something changes for next year. I am sure she will be getting a hold of you for next year too.
Caitlin Swearengin, Birch Run High School Snowcoming Dance
---