---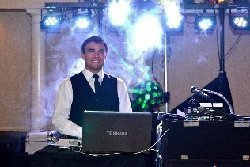 Highly Rated FUN Disc Jockey! Your goal should be to find the ONE DJ that "keeps the party going every single minute, NON STOP", like KC does! He'll bring a great variety of music and fun lighting!
---
DJ KC packs the dance floor at Horizons!

DJ KC's weddings at The Inn at Bay Harbor are the MOST FUN!
---
---
Casey was our DJ and he did a great job all night. The lighting he added really made the room pop and look like a party. He did a good job of mixing the music in and out to keep the dance floor rocking all night. We had a blast and would definitely recommend him for your wedding reception.
Robert B
Everyone had so much fun at our wedding – you really made it a great party!  We had a few people say it was the best & most fun wedding they had ever been to. I was nervous about how the polish music would blend in but it was great! Thanks for making it such a great event! We had a BLAST!!
Maria  & Frank
DJ KC was a riot to work with at the Castle Farms . As a wedding professional, the fellas from Rusch Entertainment are always on site with smiles and a clean presentation, making them a pleasure to work with every time! The energy these guy bring to an event, takes every evening from regular to extraordinary! The added features of up-lighting and a custom play list really make the reception unique to your personal taste. I recommend Rusch Entertainment to all of my clients.
Meg at Paxton Photography
DJ (KC) looked very professional. He kept everyone dancing and even the people who didn't want to dance, he was able to get them to dance with us all. We had less expensive offers, but that didn't mean it was the one to go to. Rusch DJ service, was amazing and we would highly recommend them to anyone for any party. We plan on using them again in the future.
Nicole R., Flushing
I just wanted to thank the D.J., Casey, I had for my wedding. He was AWESOME!!!!! There was never one song where the dance floor was empty. He helped people to learn the popular dances. Again simply AWESOME!!!! I have used Rusch for my daughters wedding and now my wedding that was a week ago today. I would be happy to recommend everyone I know to your services. Thanks again for making our day special!!!
Melissa Rousseau, Brass Bell, Chesaning 
KC did a great job playing a Wide Variety of Dance Music John's Birthday.  Everyone had a lot of fun, and he kept it moving. Especially considering he had to fight his allergies while doing it! He was a trooper!
Lori Blaker, Oxford
The kids loved KC for the last dance. I am sure whatever he played last time is great with the kids

The advisor for homecoming thus far is Maria Arebalo unless something changes for next year. I am sure she will be getting a hold of you for next year too.
Caitlin Swearengin, Birch Run High School Snowcoming Dance
---